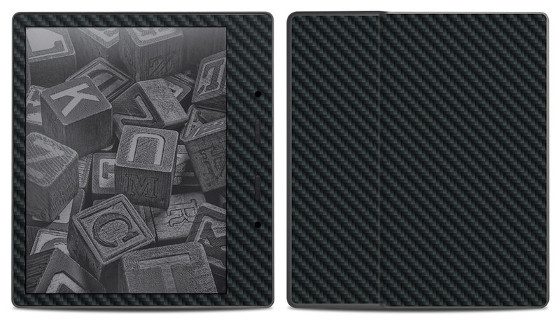 I recently posted a review of a matte screen protector for the 2018 iPad, and while I don't like how fuzzy it makes the screen look, I really like how the matte screen protector feels. It has sort of textured paper feel to it.
That got me thinking it would be nice if ebook readers had a similar kind of papery feel. It would make them feel more book-like than the slick, cold metal and glass that's the style these days with devices like the Kindle Oasis 2.
Then I remembered I once had a skin for the original Kindle Touch that had a nice matte texture feel to it.
It turns out DecalGirl still sells matte/satin skins and they have a bunch of them available for the 2017 Kindle Oasis.
The $16.99 price seems kind of high to me for a skin but they're currently having a back to school sale that takes 25% off with code BACK2SCHOOL.
It looks like iStyles sells many of the same skins as DecalGirl and they have the option to choose a matte or glossy finish.
There are some vinyl wrap skins on Amazon from MightySkins as well, but I think the vinyl would have more of a slick feel to it.
There's also a carbon fiber skin from Skinomi at Amazon, and it probably has a nice textured feel to it but there aren't any reviews to confirm that.
Another option, Mobile Outfitters offers premium textured skins for the Kindle Oasis. I've never tried any of these, however.
Gelaskins is another place that sells skins for the Kindle Oasis, but I don't see anywhere where they specify what kind of finish they have. I tried one of their skins a long time ago and it had a glossy finish.
I'm going to get one of the matte skins from DecalGirl and see how it works. I wonder if it will interfere with the Amazon sleepcover magnet.
If you've tried any of these skins on the Kindle Oasis 2 let us know what you think in the comments sections.