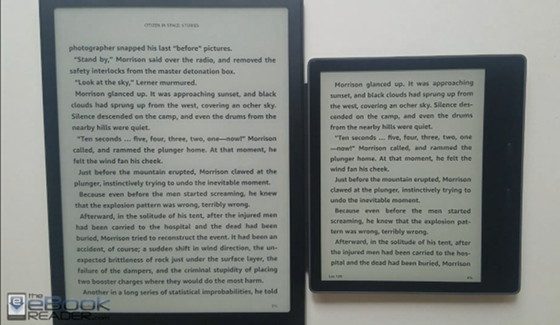 One of the worst things about Amazon completely dominating the ebook market is the fact it locks people into using Kindle apps and Kindle ebook readers.
This isn't really even Amazon's fault; if publishers didn't insist on locking down their ebooks with pointless DRM (pointless because it can easily be removed for free by anybody, which completely defeats the purpose) then ebooks wouldn't be locked into any one company's ecosystem to begin with.
But since most people don't want to go through the hassle of downloading an ebook to a computer, then removing the DRM, then loading it onto an ereader to read, that mostly limits Kindle ebooks to Amazon's devices and apps.
This wouldn't be a big issue except for the fact that there are lots of dedicated ebook readers out there that are much nicer than Amazon's Kindles.
I complain about this all the time but it's totally unacceptable that the entry-level Kindle still has an outdated Pearl screen that was replaced by better Carta screens 5 years ago but Amazon still refuses to upgrade even when every single other ebook reader on the market now uses Carta screens.
Then there's the Kindle Paperwhite that was first released in 2012. They upgraded the screen a couple of times but the design has remained exactly the same for over 6 years now.
If you want an ebook reader with page buttons you have to spend $250 for the Kindle Oasis, and another $20 to remove the obnoxious advertisements.
That's totally ridiculous when you can get a device like the InkBook Lumos for $99 with page buttons, a memory card slot, and an adjustable frontlight.
I just got the InkBook Lumos to review and it's amazing how much nicer the hardware is than the entry-level Kindle.
However, the Kindle's software is light-years ahead of InkBook's underwhelming ebook software.
Wouldn't it be great if other companies could make ebook readers that run Kindle software?
For the past few months I've been using the Onyx Boox Note almost exclusively to read Kindle books using the Kindle Android app. I like reading on the large 10.3-inch screen a lot better than reading on the Kindle Paperwhite or even the Oasis, and since Amazon refuses to release a large-screen Kindle that's about the only option.
However, the Kindle Android app isn't on the same level as Kindle ereader software. You can't customize the fonts and there aren't any boldness options, among other things. Plus it's not optimized for E Ink screens so it's rather slow and wonky at times.
At this point I can't help but wish it was possible to run Kindle software on other ereaders. Then we could have the best of both worlds.