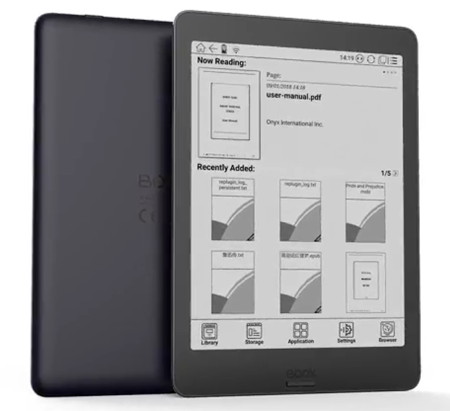 The Onyx Boox Nova is among the list of new Onyx ereaders expected to get released this year.
A new video surfaced on YouTube today from one of Onyx's resellers showing a preview of the Onyx Boox Nova. The video doesn't really show much but at least it confirms the Nova is still in the works and is likely to get released soon.
The Boox Nova has a 7.8-inch E Ink screen with 300 ppi and a frontlight with adjustable color temperature.
It has a quad-core processor with 2GB of RAM and it runs Android 6.0 like Onyx's other newer devices.
I've been eagerly awaiting the release of the Onyx Boox Nova, but Onyx has been busy releasing twenty different versions of the Onyx Boox Note instead.
To me the Nova is more interesting than the other new 7.8-inch devices like the InkBook Explore and Likebook Mars because Onyx's software is more refined and more advanced, especially when it comes to PDFs.
The Nova basically looks like a smaller version of the Onyx Boox Note. It's disappointing to see Onyx moving away from offering page buttons and memory card slots on their devices, but at least their newer software and upgraded hardware is a big step forward.
The video preview shows the Kindle app in action, and it appears to work pretty well. The Nova could be a nice alternative to Kindles with the larger screen if the price is right. Hopefully Onyx will start selling the Nova on Amazon soon alongside their other devices.
Boox Nova Preview