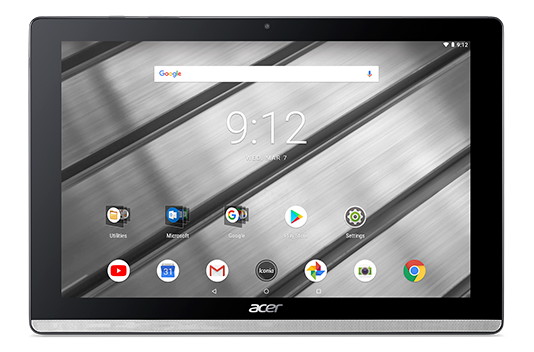 Acer recently released a new low-cost 10-inch Android tablet that looks like it could be good competition for the Fire HD 10.
The latest Acer Iconia One 10 (model B3-A50FHD) is available for under $200, currently $191 at Amazon, and it's one of the few 10-inch tablets with a full HD screen in that price range.
The upgraded 1920 x 1200 resolution screen is a lot better for ereading than the more common 1200 x 800 screens.
There's also another version of the Acer Iconia One 10, the B3-A50, with the lower resolution screen and the price difference is only $20 less so steer clear of it.
The specs are fairly similar to the Fire HD 10 but it has better cameras, and it runs Android 8.1 Oreo and comes with Google Play onboard so that's a big advantage over Amazon's tablets.
The Acer tablet has a 1.5GHz quad-core processor with 2GB of RAM and 32GB of internal storage space, with a microSD card slot for expansion up to 128GB. It has a 2MP front camera and 5MP rear camera, dual speakers, a microUSB port, Wi-Fi, Bluetooth 4.1, and it has a 6100 mAh battery.
It's good to see another 10-inch tablet with a full HD screen for under $200. The Fire HD 10 is the least expensive 10-inch tablet with a high resolution screen, and it costs $165 without ads for the 32GB model.