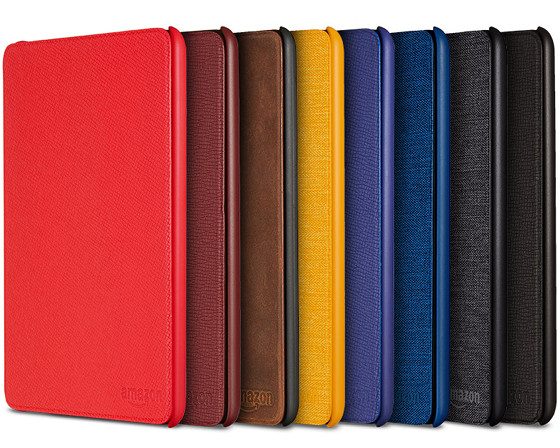 With the upcoming release of the new 4th gen Kindle Paperwhite (10 generation overall), Amazon is offering three different types of cover choices for it, with several color options as well.
The covers are getting released on November 7th, the same day as the new Kindle Paperwhite. All the covers have the auto sleep/wake feature when opening and closing them, and all are held closed with a magnet.
The cheapest option is the water-safe fabric cover at $29, which comes in charcoal black, canary yellow, and marine blue.
The water-safe covers aren't actually waterproof but they can "withstand brief accidental exposure to water without cosmetic damage," as Amazon puts it.
The leather covers aren't water-safe at all so if you plan on reading near water the fabric cover is the best option. I got the water-safe fabric cover with the Kindle Oasis 2 and I like the feel of the material and it's held up well over the past year.
Next on the list is the standard leather cover that sells for $39. It's available in black, merlot, punch red, and cobalt purple.
It's described as a textured natural leather cover with a microfiber interior, and Amazon claims it's the thinnest and lightest leather cover ever created for the Kindle Paperwhite.
Lastly, there's the premium leather cover for $59, which comes in just one color: rustic.
The description says it's crafted from premium leather and it features a ruggedly smooth finish that will wear and patina naturally over time.
Unfortunately Amazon doesn't give the exact weight of each cover, just the shipping weight, which is 3.5 ounces for the fabric cover, 5.6 ounces for the leather cover, and 5.9 ounces for the premium cover.
You can also order the new Kindle Paperwhite as a bundle with an included cover. The price is the same either way but the bundle packages add a USB charger, so if you need another free USB charger you might as well get the bundle.
For those that ordered the new Kindle Paperwhite, which style of cover did you choose? Or do you plan to wait for cheaper 3rd party covers?