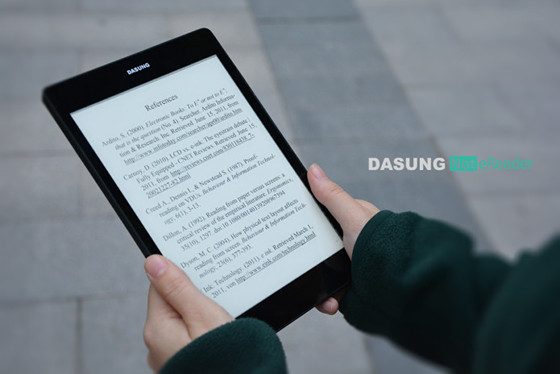 Dasung has started accepting pre-orders on Indiegogo for their latest new device, the Not-eReader, which has a 7.8-inch 300 ppi E Ink screen.
It's kind of an ereader/tablet/monitor hybrid. They're calling it the first E Ink mobile phone monitor. I don't know if very many people want a 7.8-inch black and white monitor for their phone, but the device runs open Android 6.0 so it has plenty of other uses.
The Not-eReader has a quad-core processor with 2GB of RAM and 64GB of storage space, plus there's a memory card slot for further expansion.
It also has Wi-Fi, Bluetooth, a 5-point capacitive touchscreen, a USB-C port, a mini-HDMI port, two-speakers, a microphone, and a massive 5300mAh battery.
The Not-eReader has a frontlight as well, with warm and cool settings. They say it supports a variety of formats but they neglect to give any specifics other than PDFs.
The Not-eReader is surprisingly expensive. They're selling it for $369 plus shipping on Indiegogo, and that's with a 26% discount for the early bird offer. The regular price is $499.
That's a lot more than the LikeBook Mars, which also has a 7.8-inch screen and Android 6.0 software. It lacks an HDMI port and the battery is smaller but it has an octa-core processor and it only sells for $259.
The Not-eReader is expected to start shipping March 2019.
Dasung Not-eReader Video Demo