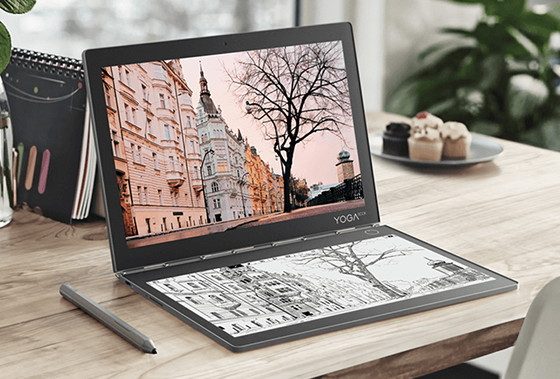 A couple months ago Lenovo unveiled a new dual-screen Yoga Book that features an LCD screen and an E Ink screen.
The E Ink screen doubles as a keyboard, a writing pad using an included stylus, and an ereader, although I think it only supports PDFs at the moment.
The new Lenovo Yoga Book C930 has turned up for sale at Best Buy and it's not cheap.
It's selling for $950 for the 128GB model and $1050 for the 256GB version.
The Yoga Book runs Windows 10 and it has an Intel Core i5 CPU and 4GB of RAM.
The pen supports 4,096 levels of pressure sensitivity.
It also has a fingerprint reader, a microSD card reader, 2 USB-C ports, WiFi, Bluetooth, stereo speakers, a 2MP camera and microphone.
The LCD screen measures 10.8-inches and it has a resolution of 2560 x 1600.
Unfortunately Lenovo doesn't give and specs for the E Ink screen on their website. It's probably the same 10.3-inch Mobius Carta screen that other ereaders use like the Onyx Boox Note.
Even though it has two screens, it's still only 9.9mm thick when folded together. That's about the same thickness as most tablets. It's a really interesting-looking hybrid but it sure is pricey.