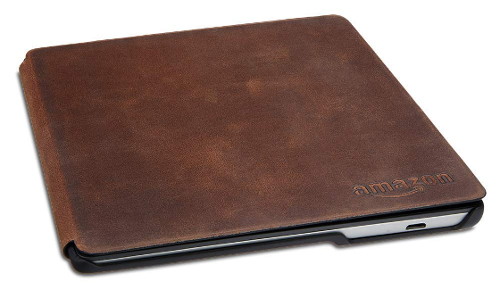 Earlier this month Amazon finally started selling their own official covers for the Kindle Oasis 2 after nearly a year since they stopped selling the original covers that got a bunch of negative reviews.
Now Amazon has added a third option with their new Kindle Oasis Premium Leather Cover, which is currently available to pre-order.
It sells for $64.99 and it gets released on December 5th.
Like the leather and fabric covers Amazon started selling earlier in the month, this case covers the full back of the Kindle Oasis.
So apparently they've completely abandoned their original idea where the case only covered part of the back up to the rounded edge of the thicker side.
Several third-party cover-makers still sell cases like that, and that's how the cover worked on the 1st gen Kindle Oasis, albeit with a built-in charging function, but now it looks like Amazon is ready to give up on that idea, which is kind of odd considering the fact the cover was meant to be taken off while reading to take advantage of the Oasis's wedge design.
Most people didn't seem to take to that concept, however, preferring to leave their Kindle in the cover all the time, so it's not really surprising to see Amazon reverse course on the idea.
Either way it's good to see Amazon bringing back official covers for the Kindle Oasis since some folks prefer Amazon's covers, even if they are overpriced.