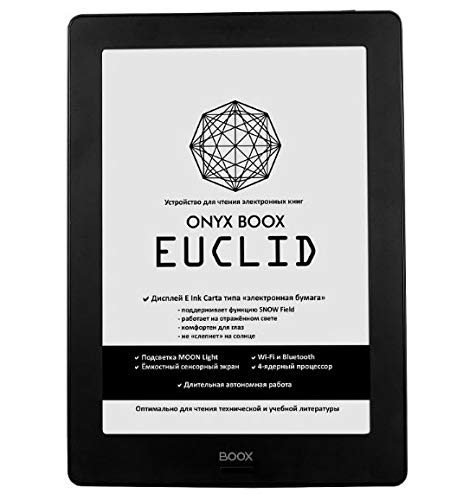 Yesterday I posted about a couple of new Onyx ereaders on Amazon that you probably should avoid buying, but there's another model called the Onyx Boox Euclid that may be worth considering.
It's basically a Russian version of the Onyx Boox Note S except it adds a frontlight, which is something none of the other Note models offer and is one of the biggest complaints about them.
However, the Euclid doesn't support note-taking using a stylus; it only supports capacitive touch.
But otherwise it has the same hardware as the Note S, with a quad-core 1.6GHz processor, 1GB of RAM and 16GB of storage space.
These models have the low-resolution E Ink screens (1200 x 825) so that's why they're a lot cheaper than the 10.3-inch models.
The operating system is based on Android 6.0, but according to the one review the software is a bit different than on the regular Note devices, more limited in functions.
The Onyx Boox Euclid is priced at $379 on Amazon and is being sold by Ectaco. That's $10 higher than the Note S so the markup isn't as high as Ectaco's other Onyx ereaders, some of which are insanely overpriced.
My experience with the Onyx Boox Note S wasn't great so I wouldn't recommend the Euclid under normal circumstances, but considering it's the only option for a 10-inch E Ink ebook reader with a frontlight it's worth mentioning. The upcoming Likebook Mimas will be a better option when it gets released, but the price with probably be around $100 higher, at least.