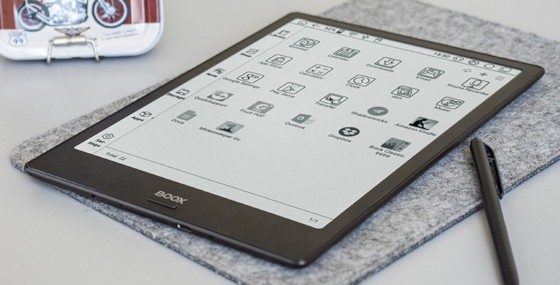 Onyx has officially released a new software update for the 10.3-inch Onyx Note and the 13.3-inch Onyx Boox Max2.
Oddly the Onyx Boox Nova still shows the older software version, as does the Note S and Note+, but they'll probably update the links soon.
You can trigger the update from the settings menu from the firmware update tab.
Or you can download the update from Onyx's firmware updates page and sideload the file. Just make sure to download the update for your specific model.
I haven't had much time to test the update yet but one thing I do know is the Kindle app still doesn't work right. Page turns simply don't respond regardless of which "optimize" settings I mess with, and it's super annoying because that app used to work fine with the older 1.9.1 software.
I used to like having a large 10.3-inch Kindle since Amazon refuses to make one themselves, but now that's out the window. Thanks a lot, Onyx.
Here's the list of changes provided in the changelog for the V2.0.1 update:
Neo Reader 2.0:

Fix the bug of cannot open certain PDF files.
Fix the bug of system crash when to export certain annotations;
Fix the bug of cannot close the specific document of multi-document;
Fix the bug of cannot open web novels after purchase;
Fix the bug of word meaning capturing function not working with the Internet connection;
Pop up a window for the third-party DRM documents and data corruption documents;

Note:

Fix the bug of stroke joggle after enlargement;
Fix the bug of lag caused by too many searching pages;
Fix the bug of part of keys not working after wireless keyboard connected;
Fix the bug of touch area is too small on the both sides of text frame;
Add the function of thumbnail jump.

System:

Allowed to switch to the "Recently read" or "All books" tab in Library;
Add Library list mode;
Add remote optimization function for every individual app.
Add a function of enterprise wifi, like hotspot input and others;
Fix the bug of incorrect book order sorted by book name in Library;
Fix the bug of jumping out of current page after deleting books in Library;
Fix the bug of cannot open files after renamed;
Fix the bug of incorrect display of power percentage;
Fix the bug of inaccuracy of synchronized time;
Fix the bug of icon and menu loss;
Fix the bug of instability in A2 mode, and A2 not working for videos;
Fix Google Play bugs including invalid register, invalid download of purchased apps. And add Google account management;
Fix the bug of interruption during Bluetooth transfer;

Fix several bugs of others. And optimize some of the functions.