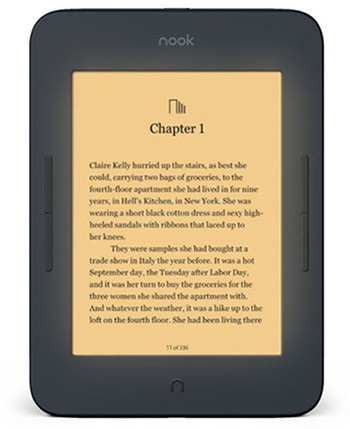 Barnes and Noble has a steady history of releasing a new Nook ebook reader every two years, and the current Nook Glowlight 3 was released in 2017.
The Nook brand has been declining for years, however, so you never really know what B&N is going to do with their Nooks moving forward.
They just released a couple of new Nook tablets last fall, though, so maybe we'll see a new Nook ebook reader this year after all.
It came as a surprise when B&N released the Glowlight 3 in 2017.
A lot of folks like the retro design that's similar to the original Nook Touch, and the screen has great contrast thanks to the infrared touchscreen that doesn't require an added layer over the E Ink screen.
Lots of people like the frontlight with adjustable color temperature as well.
If Amazon came out with a similar low-cost Kindle with page buttons and a color-adjusting frontlight it would be a best seller.
But the Nook Glowlight 3 has failed to gain much attention. B&N rarely puts it on sale anymore, and they never seem to advertise it or promote it. Some people simply don't trust buying ebooks from B&N anymore after all the quirky things they've done over the years, like making it nearly impossible to download backup copies of purchased ebooks.
One thing Barnes and Noble hasn't done is release a Nook ebook reader with a screen larger than 6-inches.
What if they released an 8-inch Nook similar to the Likebook Mars or Kobo Forma but at a lower price? Is it possible for B&N to gain ground with something different and innovative? Or is it simply too late at this point?
There really is no reason to replace the Glowlight 3 this year; there aren't any new cutting-edge features to add and the screen is already better than most other ebook readers with capacitive touchscreens. If B&N is going to stay the course and release another new Nook this year they should do something different to try and gain some new customers.