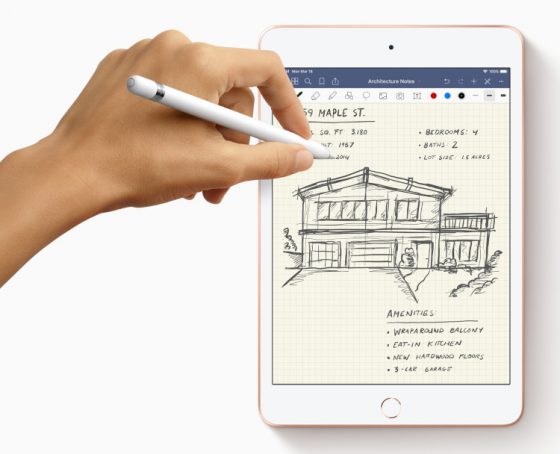 It turns out the new iPad Mini rumors were true. After nearly four years, Apple has finally released an updated iPad Mini, along with a new 10.5-inch iPad Air.
The new iPad Mini costs $399 for the 64GB version and $549 for the 256GB version—add another $130 to those prices for the cellular models.
The new iPad Mini features an upgraded A12 Bionic processor and they added support for the Apple Pencil, but oddly it's the older 1st generation version.
The overall design of the iPad Mini remains the same as before, but it does have a nicer screen and they upgraded the front camera to 7MP.
The iPad Mini is widely regarded as one of the best tablets for reading ebooks. With a 7.9-inch screen, it has the highest pixel density of any iPad with 326 ppi so text is super clear and sharp, and the upgraded screen should make it even better.
Considering the smaller size, it's somewhat surprising that the iPad Mini is more expensive than the 9.7-inch 2018 iPad, but the Mini does have a higher-quality screen, a better processor, a better front camera, and it has twice as much storage space.
It's not a big change from the iPad Mini 4 but at least Apple is keeping the smaller model around. Some people prefer the form factor of the Mini model, especially for the portability factor, and it is one of the nicer tablets for ereading.
via: Press Release