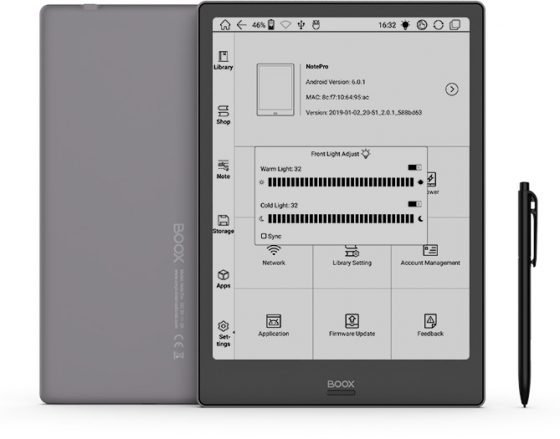 Onyx has started accepting a 2nd round of pre-orders for the new 10.3-inch Onyx Boox Note Pro.
They're selling it for $599 directly from their Boox Shop website.
Estimated shipping is listed at 15-30 days out, so it'll be at least 2-4 weeks before they start to arrive.
Unfortunately they still haven't listed the Note Pro on the Onyx Amazon store yet. They don't seem to do pre-orders there for some reason, but it should get listed on Amazon later this month.
The 10.3-inch Onyx Boox Note Pro is basically a larger version of the 7.8-inch Nova Pro that was just released, and it's just like the Note Plus with the flush glass screen that was released last fall, except they added a frontlight and doubled the storage space and RAM to 64GB and 4GB.
Like the original Note, the Note Pro runs Android 6.0 and has a quad-core 1.6GHz processor, a Wacom touchscreen, a capacitive touchscreen, a USB-C port, Wi-Fi and Bluetooth.
For those that would rather buy it from Amazon with Prime shipping and easy returns, I'll let you know with a future article as soon as it becomes available to order from there. Either way it's good to see they are getting closer to the official release. Some folks have already gotten their early pre-orders.