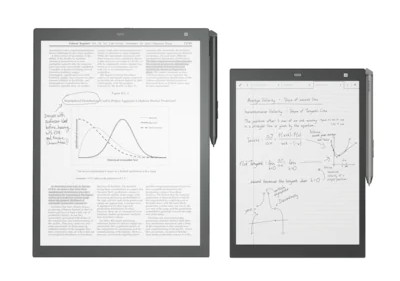 Sony has released a new software update for their Digital Paper devices, including both the 13.3-inch DPT-RP1 and the 10.3-inch DPT-CP1.
The new firmware version is 1.6. It adds a number of new features. Some of the improvements are so basic it's hard to believe it's taken Sony nearly two years to add them to their software, like the ability to jump pages and navigate a file using the table of contents.
They also improved the latency of the stylus by 30% so that will enhance the overall writing experience.
It's good to see Sony continuing to develop their software—you never know when they might decide to pull the plug on something.
If you have a Sony DPT device you can use the Digital Paper app on your computer to download and install the update.
Here's the link to the Sony Digital Paper help section if you encounter any issues or need to read the help guides.
This is the full list of changes included with the new v1.6 update:
Software Updates Include:

Improvements to Writing Function – Pen latency has been improved approximately 30%
Table of Contents – Experience a better organized document with addition of the table of contents page. Users can navigate more quickly by jumping to various pages from the table of contents in a PDF file
Page Jump – Jump to a specific page anywhere in the document
Pinch-in/out (zoom) – No longer are you required to use the stylus to zoom. Simply pinch in and out to enlarge and shrink different sections of the document
Copy File on DP – Easily and quickly make a copy of a document using the pull-down menu on the Digital Paper device itself rather than through the app
Black Pen color addition – Mark up your document in black and red, or blue and red colors. Prior to this update only blue and red colors were offered
Security has been enhanced and minor bugs have been addressed
Minor bugs have been addressed for the Digital Paper Application