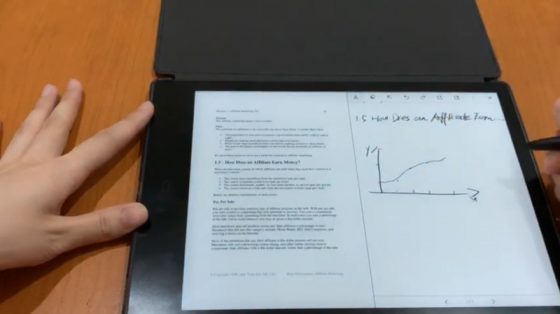 Likebook is getting set to release a new 10.3-inch Android-powered ebook reader and digital notepad called the Likebook Alita.
The design looks strikingly similar to the Onyx Boox Note Pro. Their shameless copying of Onyx is starting to get kind of creepy. Half their software features were taken from Onyx's software and now their hardware is a near replica too.
They released the Likebook Note for about a month last year and then decided to move onto the Likebook Mimas, and now a couple months later they're already coming out with yet another 10.3-inch model with the Likebook Alita?
What's the deal with releasing three separate 10.3-inch models in less than one year?
Frankly Likebook needs to get their software problems fixed before releasing yet another model.
Nevertheless, the Likebook Alita looks like it could be a nice device if they get the numerous software problems that afflict the Likebook Mimas worked out.
It's basically an upgraded version of the Mimas with a flush glass screen and double the storage space and RAM with 32GB and 4GB.
Like the Mimas, it has a 10.3-inch E Ink screen with 227 ppi and it has a frontlight with adjustable color temperature. It has a Wacom touchscreen, Bluetooth, a microSD card slot for cards up to 128 GB, an octo-core CPU, and a USB-C port.
After being thoroughly annoyed by the Likebook Mimas's software, and having just reviewed the Likebook Muses the month before, there's no way I'm going to review the Likebook Alita, so here are a few YouTube videos showing the Likebook Alita in action for those interested (personally I'd recommend the Onyx Note Pro over it because the software is better but it's good to have choices and the Alita does add a memory card slot).
Likebook Alita Video 1
Likebook Alita Video 2
Likebook Alita Video 3