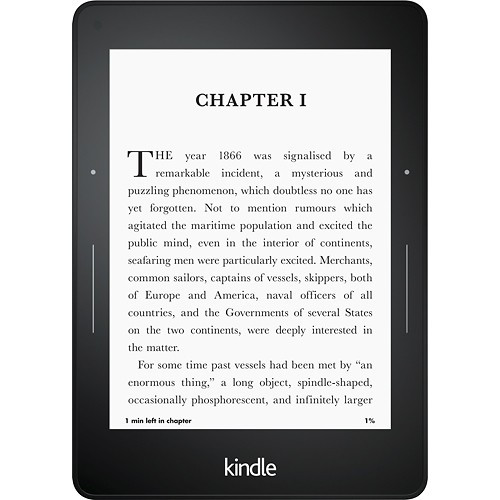 You'd be surprised by how many people still consider the Kindle Voyage, which was released back in 2014, the gold standard when it comes to Kindles.
The unusual design of the Kindle Oasis puts off some people, and the poor battery life complaints don't help its cause either.
That's why some people are frustrated with the new Kindle Oasis having the same design as the last one.
A lot of people prefer the Kindle Voyage's more traditional design, with the smaller overall size and page buttons on both sides of the screen instead of on just one side of the screen.
But the thing about the Kindle Voyage that gets the most praise is its screen.
It has the best contrast of any Kindle released thus far. Something about the micro-etched glass screen makes the text darker and stand out more than current Kindle screens—it's comparable to ebook readers with infrared touchscreens with no added layers over the E Ink.
According to early reports, the new Kindle Oasis has an upgraded E Ink screen, but it appears to be a speed improvement only, as there's no mention of any contrast enhancement.
Unfortunately the Kindle Voyage wasn't perfect. It had issues with frontlight uniformity and colored hues, possibly an unintended side effect of its micro-etched glass screen.
The newer Kindles have more storage space, audiobook support, waterproofing, better frontlights, but there was something about the Kindle Voyage—its superior screen, its streamlined, premium design—that the new Kindles can't match.
It makes you wonder if Amazon will ever release another Kindle like the Kindle Voyage.