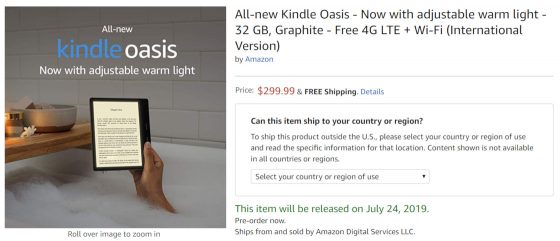 There's something wrong with the price of the new Kindle Oasis 3, and not just its inordinately high retail price.
For some reason Amazon is charging $70 more for the US version of the Kindle Oasis with 4G LTE than they are charging for the international version.
The international Kindle Paperwhite with 4G LTE is the same exact price as the US version so why is the Oasis $70 more expensive in the US?
Something doesn't add up here. Why would Amazon upgrade the international model to a 4G version for basically free? It makes no sense, unless they're taking the "Free 4G LTE" statement to a new level.
There's also the fact that there are two separate pages for the international Kindle Oasis with 4G LTE.
Both show a price of just $299. So why is the US version of the same exact model $369?
Amazon started accepting pre-orders for the new Kindle Oasis three weeks ago now so you'd think they would have found the error by this time, if it indeed is an error.
There's also the fact that Amazon mysteriously raised the price of the 4G version of the new Kindle Oasis by $20 compared to the last model, yet all the other prices of the various sub-models remain the same. What gives?
Update: It's the next morning and now Amazon has changed the prices of the international models to $369 like the US version. I guess you can blame this blog for getting the price raised but they would've noticed sooner or later. Too bad they didn't correct the price to $349 like the last Oasis, so apparently the $20 increase isn't a mistake.
Update #2: Now it's a day later and they've lowered the price of the Oasis 3 with 4G LTE to $349, both the international and US versions. So apparently someone at Amazon is paying attention. Too bad they aren't listening about the need for a larger Kindle too. 😀