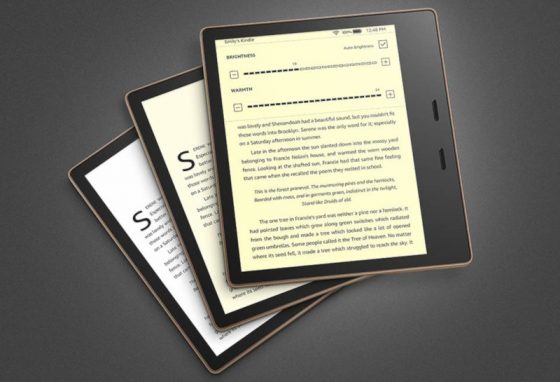 The latest new Kindle Oasis with adjustable frontlight color officially gets released tomorrow, and Amazon has already released a software update for it.
The update adds a "Warmth Schedule" to set the frontlight to automatically shift between cool white and warm amber as the day goes on, and the changelog also mentions the new Read Now feature that is supposed to be coming soon, which was listed on the most recent update for the other Kindle models.
The updated software version for the new Kindle Oasis, which Amazon refers to as the 10th generation model, is 5.12.1.1.
Like always, the update can be downloaded from Amazon's website and manually sideloaded, or you can just do nothing and wait for it to install automatically over Wi-Fi.
Amazon also has the previous generation Kindle Oasis on sale again, which is essentially exactly the same as the new one minus the warm frontlight and some minor changes, so if you don't care about that now is a good time to get an Oasis for cheap, especially if you have an older Kindle to trade-in to get an extra 25% off.
The 8GB Kindle Oasis starts at $199, the 32GB Oasis is $223 (that's a weird number), and the 4G LTE Oasis is $279 ($70 off). They also have the refurbished Kindle Oasis starting at $169, but you can't use the trade-in deal with those.
If you're curious about how the new Kindle Oasis with the warm light compares to the 2nd gen Kindle Oasis, I'll be posting a comparison video later this week so check back soon for a closer look.