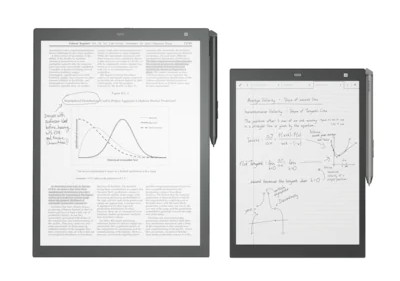 Right now Sony's Digital Paper devices are all $100 off the regular list prices.
The deal includes the 13.3-inch Sony DPT-RP1, both black and white versions, and the 10.3-inch Sony DPT-CP1, which is only available in black.
The sale takes the price of the Sony DPT-CP1 down to $498 and the discounted price of the Sony DPT-RP1 is $598.
Unlike some of the newer models, Sony's Digital Paper devices do not have frontlights and they only support PDF format, but Sony's hardware is really nice and the writing experience with the stylus is more paperlike than most other devices.
Sony recently released a software update that adds some much-needed features, like being able to jump to specific pages and navigating a file using the table of contents. The update also reportedly improves the latency of the stylus by 30%.
Sony's DPT devices have 16GB of storage space with 2GB of RAM, and a quad-core 1.2GHz processor. They have WiFi and Bluetooth for transferring files, but there is no internet access.
For more information refer to the Sony DPT-CP1 review and the Sony DPT-RP1 review.