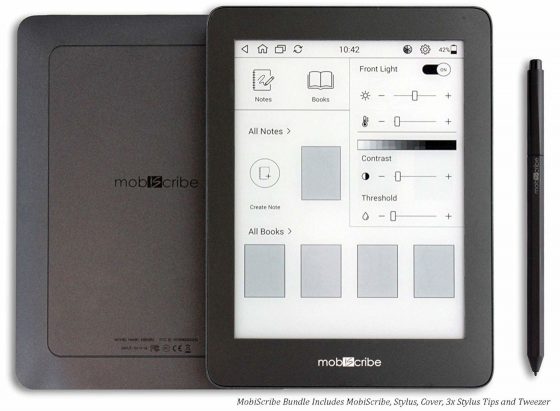 I recently came across a listing for the MobiScribe over on Amazon. For some reason it's located in the office products section so it's not exactly easy to find.
The MobiScribe was first introduced back in January via a crowdfunding campaign on Indiegogo.
The device is somewhat similar to Likebooks and Onyx's ereaders in that it doubles as a digital notepad and ereader that runs Android and can install apps.
Unlike most E Ink Wacom devices, the MobiScribe has a smaller 6.8-inch E Ink screen with 265 ppi. It also has a frontlight with adjustable color temperature.
The MobiScribe is mostly being marketed as a digital notepad, similar to the Remarkable, but technically it's an ebook reader too. By the looks of it, not a very good one.
It appears that they're just using FBReader or something similar, meaning they haven't actually put any work into developing an ebook app for the device—they're just relying on third-party apps.
They're selling the MobiScribe as a bundle with a cover, stylus, and replacement tips for $264 with free shipping at Amazon.
That's not a bad price considering it has a Wacom touchscreen, but for just a little more you can get a 7.8-inch Onyx Nova Pro with much better hardware and software.
The MobiScribe has some desirable features, like a memory card slot, dual touch and a color-changing frontlight, and the smaller 6.8-inch screen makes it unique among E Ink notetaking devices, but the ancient Android version (4.4, I think) and single core 1GHz processor with 1GB of RAM isn't even in the same ballpark as similar devices.