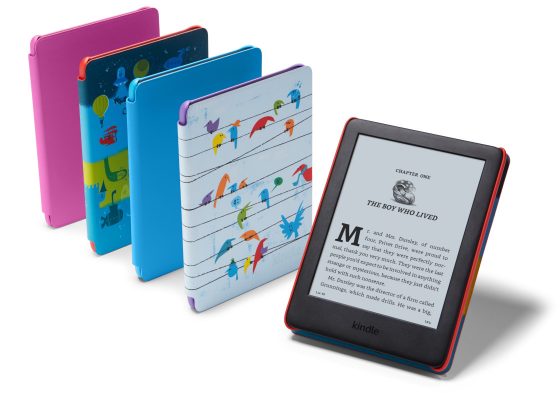 In addition to the new Fire HD 10 tablet, Amazon has also announced the upcoming release of a new Kindle Kids Edition, which replaces the Kindle for Kids Bundle that they've been selling since 2015.
Despite some misleading marketing in the press release, the new Kids Kindle Edition isn't the "First Ever Dedicated Reading Device Built Just for Kids". Like the previous two versions, they're just re-branding the entry-level Kindle as a Kids Kindle by throwing in a free cover and a 2-year warranty.
With this new version they're also including a free 1-year subscription to FreeTime Unlimited for access to a selection of over one thousand kid-friendly books.
The Kids Kindle also comes without ads, of course, and this new one has some kid-friendly wallpapers that appear on the lockscreen.
Parents can monitor reading habits and kids can earn achievement badges for reading and surpassing pre-defined goals.
The regular Kindle features—things with like Word Wise, a Vocabulary Builder, and dictionary look-up—are available as well to assist with reading and learning.
The new Kindle Kids Edition sells for $109, and you can get 25% off when buying two. It gets released on October 30th.
Again, it's the same exact device as the entry-level Kindle with a frontlight that was released 6 months ago.
The last Kindle for kids bundle appeared to be a total flop, averaging less than 2 customer reviews per month, so it's somewhat surprising to see Amazon trying it yet again.