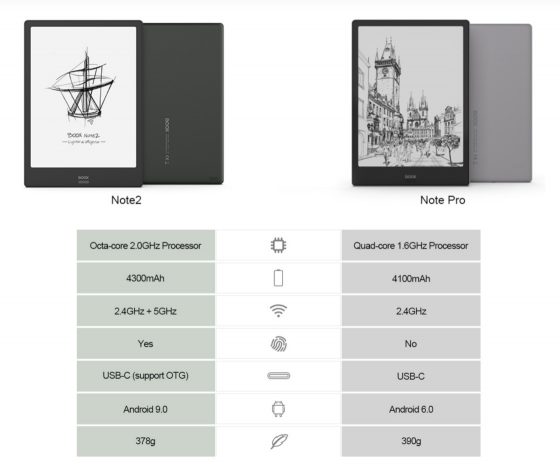 So I decided to buy a Note2 because I wanted to see how it compares to the Note Pro, which I consider the best large-screen ereader on the market.
There's really not enough of a difference between the two to go into a lot of detail so I'll keep this short.
I still think the Onyx Note Pro is the better value for as long as they continue selling it for $449 while they still have them in stock.
The Onyx Note 2 sells for $100 more at $549, but they've been offering a free cover lately.
They both have the exact same 10.3-inch E Ink display, and both look absolutely identical up close—there's no visible contrast difference whatsoever.
However, something about the glass front seems slightly different on the Note2. I think it's a bit thinner, as there appears to be less space between the stylus tip and the ink when writing, but the surface feels the same.
One minor cosmetic difference, the back of the Note2 is a dark color while the back of the Note Pro is a light gray color.
Aside from the few software differences with the current software, (the Note Pro is expected to get the exact same software update as the Note2 soon), there are a few hardware differences between models.
The Note2 adds the following:
USB OTG support to connect memory cards, keyboard, etc.
5GHz WiFi support.
Fingerprint sensor.
Octa-core 2.0GHz processor vs quad-core 1.6GHz processor on Note Pro.
The Note2 is slightly lighter (12 grams) and it has a slightly larger battery (200mAh).
The biggest change is the processor. I've been comparing the two devices side-by-side with different types of content and the speed difference is noticeable sometimes but overall things like navigating the interface, taking notes, and turning pages all operate at roughly the same speed on both devices.
The Note2 is a bit faster for more advanced tasks like loading multiple pages of PDFs in 9-page view; it's also slightly faster loading web pages and loading apps, but the overall responsiveness between the two models is very similar.
I was going to put together a video comparison review until I realized how boring it would be just showing the Note2 loading things a fraction of a second faster than the Note Pro so I decided against it.
The bottom line is the Note2 is slightly faster than the Note Pro, but most reading and note-taking tasks remain the same speed.
Frankly I don't understand why Onyx felt compelled to upgrade the Note Pro a mere 6 months after it was released to add a few features that most people don't even care about. But at the end of the day (and this review) the Note2 is slightly better than the Note Pro so I guess that means something to somebody somewhere.