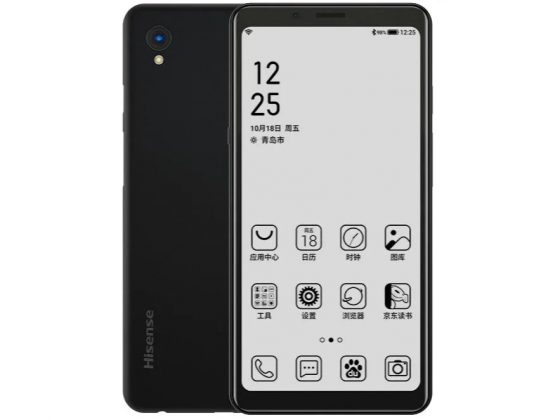 I came across a couple of video reviews of the new Hisense A5 on YouTube that some of you may find interesting.
The Hisense A5 is new E Ink smartphone that was recently released. It's not a dual-screen phone like some of Hisense's only models; the A5 has an 5.8-inch E Ink screen only, and it also has a frontlight.
Hisense has released several E Ink phones over the past few years, and they're even planning on releasing the first color E Ink phone later this year.
The Hisense A5 runs Android 9.0 but it lacks Google Play access out-of-the-box. However, apps can still be sideloaded from other sources.
The device is powered by an octacore processor and it has 64 GB of internal storage space with 4GB of RAM.
There's a microSD card slot for expansion, along with a USB-C port, Bluetooth, WiFi, and a 3.5mm headphone jack. It also comes equipped with a 5MP front camera and a 13MP rear camera with flash.
It's a neat-looking device, more pocketable than a typical ebook reader and more versatile too, but it's unfortunate that it's mostly a Chinese phone. There aren't any US distributors, and while it has the option to use an English interface, a lot of the included apps are in Chinese.
Hisense A5 First Impressions
Hisense A5 Video Review