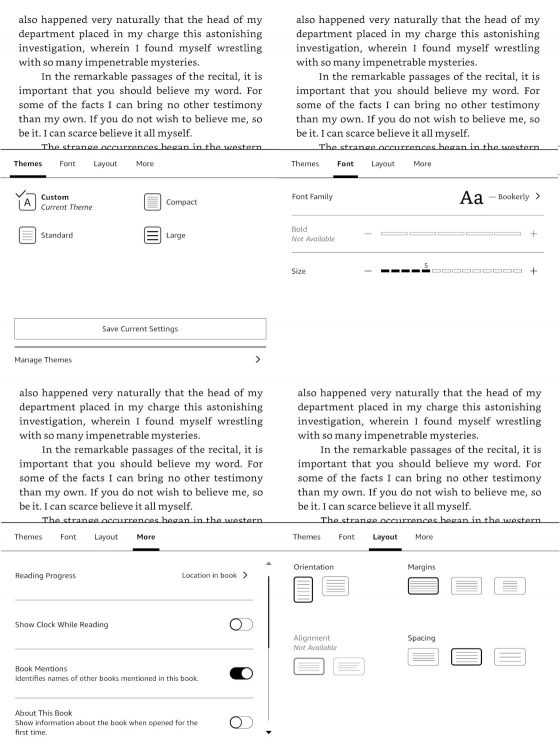 Back in February Amazon released a software update for Kindles, version 5.12.4, that was supposed to add a new Aa menu after a couple of weeks.
It took longer than expected, but now the new Aa font menu has officially started showing up on Kindles across the globe.
Unfortunately it doesn't really change anything; there are no new features.
They just rearranged things a bit and consolidated some of the extra settings into one section.
The Aa menu now opens up on the lower half of the screen and there are four different sections for themes, font, layout, and more.
The "more" tab contains a number of reading settings for things like Word Wise, the highlighting menu, the clock, reading progress, etc.
One thing I like about the update is now you can easily see the font and layout changes taking effect on the upper half of the screen without the font box covering most of the screen like before.
One thing I don't like is how the Aa menu defaults to the themes section every time you re-open a book. It will remain on whatever tab you selected while the book is open, but once you close it the default is always the themes section. That's fine if you switch themes often but I'd prefer it to default to the font section.
Another thing that's a bit odd is the fact that the invert setting is not available anywhere from the new Aa menu. If you want to invert the text to show a black background with white text, you still have to leave the book and go to the main settings menu, select accessibility, and turn on inverted mode from there. I don't why this wasn't added to the "more" tab—it's not very accessible for being an accessibility feature.
What do you think of the Kindle's new Aa menu?