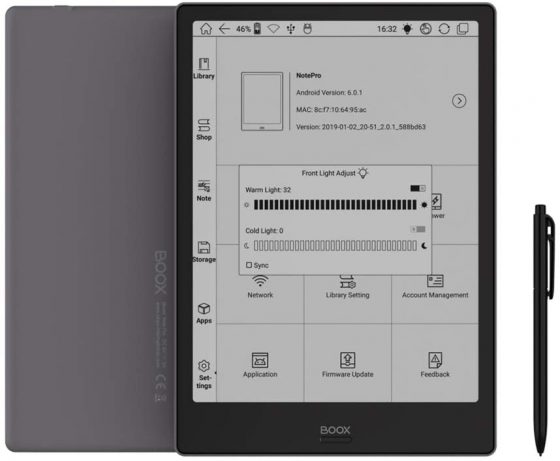 Onyx's previous generation 10.3-inch Note Pro model is back on Amazon for $399, although it won't be in stock until June 24th.
That's a very good price for an ereader and digital notepad with a 10.3-inch E Ink screen. The newer Note2 model is 90% the same as the Note Pro and it sells for $549 normally, but it's currently 5% off when purchased from Onyx's website.
Still, the Note Pro is a bargain compared to that. It comes with a stylus for writing on the screen and it has a frontlight with adjustable color temperature. It's powered by a quad-core processor and it has 4GB of RAM and 64GB of internal storage.
The main negative with the Note Pro is it runs Android 6.0 instead of Android 9.0 like the newer models, but if you don't care about that almost all the software features are exactly the same as the newer model, and most reading apps work fine with the older version of Android.
Onyx has been saying they'll update their Android 6 devices to Android 9 for eight months now so at this point it's fairly safe to assume that's never going to happen.
Onyx also has the 7.8-inch Nova Pro available on Amazon for $249. It was selling for $319 just a few months ago before the Nova2 was released, which sells for $339. The Nova2 is 5% off from Onyx's website as well, but to me the Nova Pro at $249 is still a good deal.
Like the Note Pro, the Nova Pro runs an older version of Android and it has slightly lower specs but a quad-core processor is still perfectly adequate on an ebook reader. It too has a Wacom touchscreen and a frontlight with adjustable color temperature, with 2GB of RAM and 32GB of storage space.
If you don't care about having slightly better specs and a newer version of Android, the Note Pro and Nova Pro are nice devices for the price, and they offer 95% of the same functionality as the newer models that sell for a lot more. See my Onyx Note Pro review and Nova Pro review for more details about each device, but keep in mind that Onyx has added several new features via software updates since those reviews were posted.