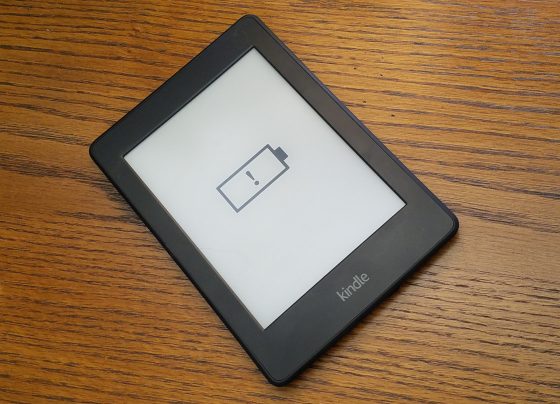 Let's face it. Kindles makes good gifts, but not everyone that receives a Kindle makes good use of it.
It's not uncommon for a Kindle to get placed in a drawer or closet somewhere where it gets forgotten about for weeks or months or maybe even years.
Forgetting about a Kindle in a drawer can even happen to those that use Kindles regularly. If you get a new one you might decide to keep your old Kindle for a backup, or you might just not feel like reading for a few months.
When this happens you'll likely be greeted by the dead battery symbol pictured above when you finally open that drawer or come across your Kindle under a bed or in a box in the closet somewhere.
If left unused a Kindle's battery will slowly deplete, and it's left uncharged for too long the battery will fail. Eventually it will reach a point where the battery won't hold a charge at all.
Like most battery-powered electronics, it's a good idea to charge the battery occasionally, even if you're not using the device. So if you have a Kindle sitting unused in a drawer right now, you might want to charge the battery since it will slowly die if left uncharged for too long.
If you do have a Kindle with a dead battery that will no longer hold a charge, the best way to get rid of it is to trade it in for a new Kindle. Amazon will give you a $5 credit for a broken Kindle, plus 20% off the price of a new one.
You could try replacing the battery yourself, but in most cases it's not worth the hassle since most replacements aren't reliable, especially considering how cheap you can get a Kindle for these days on sale or refurbished.