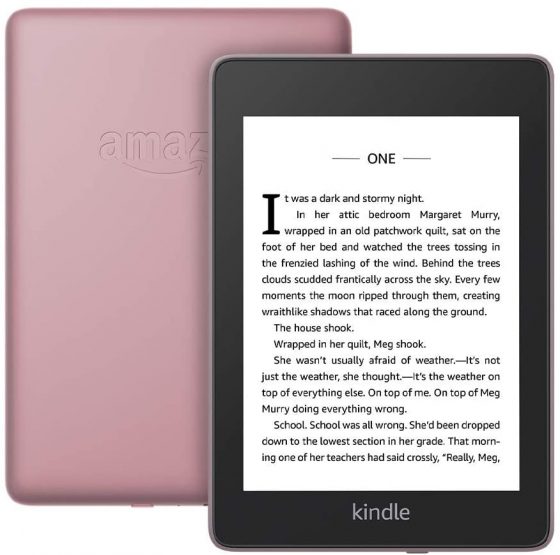 Mother's Day is coming up on May 9th so naturally Amazon is hosting another round of sales on Kindle ereaders and other Amazon devices.
This time around the Kindle Paperwhite is the best Kindle deal at $94.99 for the 8GB model. That's $35 off the regular price. The 32GB version is marked down to $119.99, which is $40 off.
Amazon's base Kindle is marked down to $64.99 from $89.99. It has a lower resolution screen than the Paperwhite and cheaper build-quality, but it's smaller and lighter and it has most of the same software features, minus dark mode.
Keep in mind these prices are for the ad-supported versions. Add $20 for the models without advertisements. The latest new feature that lets you set book cover images on the Kindle's lock screen isn't available on ad-supported versions, but you can always pay later or ask customer support to remove the ads for free, which usually seems to work.
The Kids Kindle is on sale too for $79.99. It's the same Kindle as the entry-level model but it comes with a cover, an upgraded 2-year warranty, and a 1-year subscription to Amazon Kids+. It doesn't have ads so it's actually a better deal than the $64 version if you want an ad-free version (it can be used as a regular Kindle as well).
This is actually only the second time that Amazon has had the Kindle and Kindle Paperwhite on sale all year, outside of refurbished deals. Unfortunately the Kindle Oasis isn't on sale in the US this time, which is weird because it is in the UK.
See my Kindle review and Kindle Paperwhite 4 review for more details about each device.
Update: Woot has some deals on Kindles and Fire tablets again, including the entry-level Kindle in white for $49, but it's a 1-day only sale for March 2nd.
Kindle Deals
Kindle – $64.99 ($25 off)
Kids Kindle – $79.99 ($30 off)
Kindle Paperwhite 8GB – $94.99 ($35 off)
Kindle Paperwhite 32GB – $119.99 ($40 off)