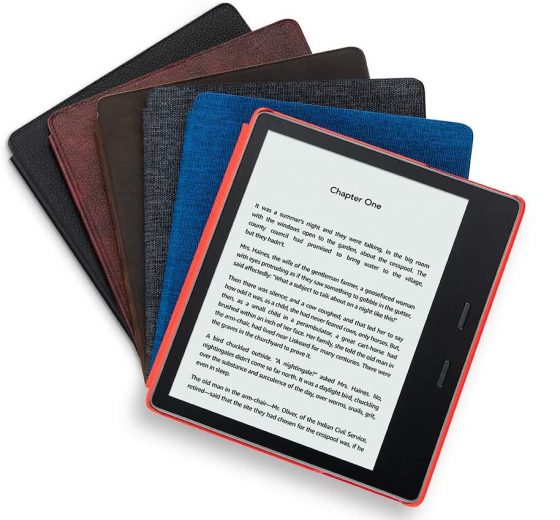 New Kindle releases have been becoming less frequent in recent years. In fact last year was the first calendar year since 2008 where Amazon didn't release any new Kindles at all.
Now we're already over halfway through 2021 and still no new Kindles have been seen. The last Kindle to get released was the Kindle Oasis 3 in July 2019, and it wasn't even a "new" model, just a minor revision to an existing model that was originally released in October 2017.
In November it will be three years since the Kindle Paperwhite 4 was released. The current entry-level model has been out for over 2 years now.
It's not like things have stalled out like this with other companies that make and sell E Ink reading devices.
In fact there have been a number of changes in recent years. Now there are ereaders with color E Ink screens, and a bunch of larger 10-inch models that double as E Ink notebooks have been released by a number of companies. E Ink also recently revealed a new touchscreen technology called On-Cell Touch that supposedly improves contrast by 30%.
Despite all that, everything continues to remain the same with Kindles. No innovation, no improvements, no new models, nothing.
Instead Amazon would rather offer a Kindle with a low resolution 800 x 600 screen that's lower than any other ebook reader available, with the same resolution as the very first Kindle from 2007.
In 2021 nearly every 6-inch ebook reader on the market offers frontlight temperature control for improved night reading, but not the Kindle Paperwhite. Amazon only offers that feature on the $250 Kindle Oasis.
Something has to change in 2021. Amazon can't just keep offering the same old Kindles year after year and not expect to lose customers.
The Kindle Oasis 3 is really the only model that doesn't need to be updated (although, if I was in charge, I'd revise the design a bit to add a larger battery). It's way past time the entry-level model should get updated to a 212 ppi screen, and the Paperwhite should finally get the option to use a warm frontlight (although I would change the name because calling it a Paperwhite no longer makes sense if you can change the screen to yellow/orange).
With nearly every other ereader company offering an ebook reader with a 10-inch screen now, I still can't believe Amazon refuses to do so. A larger Kindle should get released in 2021 too, but at this point I wouldn't bet $5 on it.
Hopefully we'll get at least one new Kindle this fall, and hopefully it's more than just another minor revision to an existing model, but it's hard to imagine what changes Amazon will make after 2 full years of nothing.