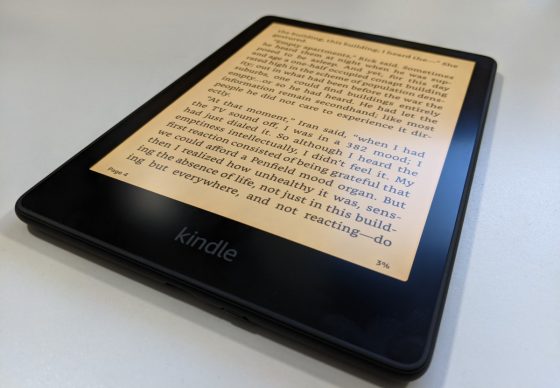 Amazon's new 6.8-inch Kindle Paperwhite with a warm frontlight started shipping earlier this week. It's the 5th generation Paperwhite model and the 11th generation Kindle overall.
The first thing that caught my eye with the new Paperwhite is the screen looks better than the screen on the Paperwhite 4. I'm not sure why Amazon doesn't mention improved contrast in their marketing spiel, but it's clearly better. It's not a huge difference but it is noticeable (it still doesn't match the Kindle Voyage, though).
Even more impressive than the screen is how much faster and more responsive the new Paperwhite is. Page turns, opening menus, navigating the interface, running searches, opening books—everything is faster. It's even a little zippier than the Kindle Oasis.
Speaking of the Oasis, the new warm frontlight on the Paperwhite 5 is pretty much exactly the same as the warm frontlight on the Kindle Oasis, and it still has Dark Mode as well so both options are now available.
One unexpected thing is it shipped with the old user interface and had to be updated for the new layout to appear. At first it was really confusing not having the new UI on a new Kindle, but I'm sure some people would prefer it that way.
It's kind of surprising how similar the design of the PW5 is to the PW4. It's basically just a slightly larger version with smaller bezels. It has the exact same feel with the rubbery back, rounded edges, and flush front screen, which is still a fingerprint magnet.
I'll post a full written review of the new Kindle Paperwhite next week after using it more, along with some comparison videos. Feel free to ask questions in the comments section below.
Update: See here for a video outlining the differences with the Kindle Paperwhite Signature Edition, and here's a video comparing the Paperwhite 5 and Paperwhite 4.
Kindle Paperwhite 5 Video Review