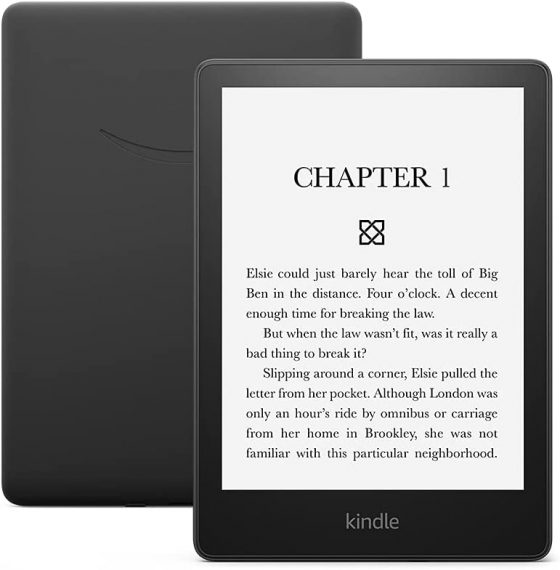 Here's a list of some tips and tricks for getting started with a new Kindle ereader.
A lot of people get new Kindles for the holidays, especially now after Amazon finally released a new Kindle Paperwhite after 2 full years of releasing no new Kindles at all, so here are some tips for new Kindle users.
Kindle eReader Tips
Kindle Help and Support – Here's the link to the full Kindle ereader help section at Amazon with all the getting started guides and troubleshooting articles. You can also contact customer service from there if you have a problem.
Free Kindle eBooks – Here's the page at Amazon that lists the top 100 free Kindle ebooks (it only shows up on the desktop version of the website for some reason, not mobile), and here is the free classics section.
Get Free Library eBooks – You can borrow ebooks from public libraries to read on Kindles for free (US only) using Overdrive or the Libby app.
Kindle Unlimited – Amazon's monthly subscription service that provides unlimited access to a large library of ebooks, audiobooks and some comics and magazines for $9.99 per month. You can often get free trials and discounts on KU. Just check the Kindle Unlimited landing page to check available offers.
Access Quick Settings – You can access the quick settings menu while reading by swiping down from the top of the screen. From there you can adjust the frontlight level, turn Dark Mode on and off (for models that support it), and turn wireless settings on and off.
Unsubscribe from Special Offers (Advertisements) – Ad-supported Kindles show advertisements on the lock screen while your Kindle is in sleep mode, and they require the extra step of swiping the screen to turn the Kindle on. You can remove these ads on the Manage Your Devices page at Amazon, and this will also enable the option to show book covers on the sleep screen instead of ads. It costs $20 plus tax to remove the advertisements. Some people have success getting rid of them for free by contacting customer support and complaining about them, but that doesn't always work.
Screenshots – You can take screenshots on Kindles by tapping the upper right and lower left corner simultaneously, or the upper left corner and lower right. Screenshots get saved on the root of the Kindle drive so you have to plug it into a computer to access them.
Firmware Updates – Software updates are automatically applied to Kindles when connected to Wi-Fi, but sometimes updates can take a long time to install this way. You can manually download and install updates from this Kindle firmware updates page at Amazon.
Send to Kindle – You can send things like personal documents, PDFs, DRM-free ebooks, and web pages to your Kindles using Amazon's Send to Kindle apps.
Identify Kindle Model – If you aren't sure exactly which Kindle model you own, you can check this list at Amazon to help identify your Kindle ereader. If you're buying a case or other accessory make sure to get one for the right model because they usually aren't interchangeable between years and models.
Sideload Fonts – You can add additional font choices to your Kindle. See here for directions: How to Use Kindle's Custom Font Feature.
Battery – Here's an earlier post with tips on how to extend battery life on Kindles. Also note that when you get a new Kindle battery life can seem erratic and drain quickly at first, but that's just because Kindles index all content for quicker searches so it takes time and battery power to index new content. The more new content you add at once the longer it's going to take and the faster the battery will drain until indexing is complete.
Return Purchased Kindle eBook – You can easily return purchased Kindle ebooks within 7 days of purchase from the Manage Your Content page at Amazon.