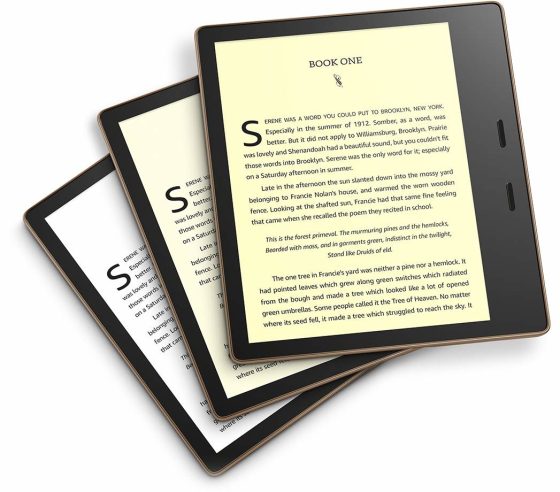 My "new Kindle" senses are starting to tingle. I have no inside knowledge and there haven't been any leaks yet, but I would be willing to bet a large sum that Amazon is going to unveil at least one new Kindle in the next few weeks.
Last year Amazon announced the new Kindle Paperwhite 5 on September 21st. That's when they started accepting pre-orders for an October 27th release.
Amazon could replace the entry-level Kindle with an upgraded version, especially since the current model is nearly 3.5 years old now, but the Kindle Oasis is in more need of an upgrade.
Frankly, it's surprising they've gone this long without upgrading the Kindle Oasis since it's supposed to be the flagship model. It's been almost a full year since the latest Kindle Paperwhite was released, and it added several upgrades over the Kindle Oasis (better screen, USB-C port, much longer battery life, optional wireless charging) and it sells for a fraction of the price.
Could it mean that Amazon has no intention of upgrading the Kindle Oasis at all? Perhaps they have an entirely new model in the works, like when the Oasis replaced the Kindle Voyage as the premium model.
Personally, I'm hoping Amazon releases a new model with a completely revised design instead of just reusing the existing design and adding a few changes like they did last time. They've been using the exact same Kindle Oasis design since 2017 so hopefully they can come up with something better to use for the next half decade.
Kobo has come out with four different ereaders with similar asymmetrical designs since then, the Kobo Forma, the Kobo Libra H2O, the Kobo Libra 2, and the Kobo Sage, so you'd think Amazon could come up with more than one idea.
It also get confusing when companies keep using the same product names over and over again so it's nice to have a new name with a new model to help differentiate it from earlier versions to make it easier to find covers and other accessories, as well as relevant user information.
Whatever they decide to call it, I just hope a new premium Kindle with page buttons gets released soon. The Oasis is clearly outdated and overpriced compared to the Kindle Paperwhite now so something needs to change.