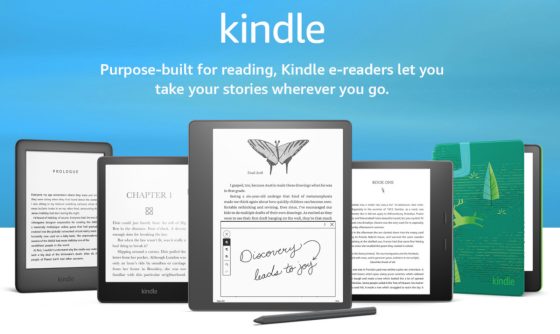 With Black Friday sales starting next week, some are probably looking for clarity on the current Kindle lineup, so here's a summary of each Kindle ereader that Amazon currently sells.
The Kindle Comparison Table was just updated as well so make sure to check that out to quickly compare specs and to see a few pros and cons of each model.
There were two new Kindles released in 2022, a new entry-level model with a 6″ 300 ppi screen for $99, and Amazon is finally releasing a model with a larger 10.2″ screen and stylus support on November 30th called the Kindle Scribe.
Related: Kobo eReaders Summary List
Here's a summary of Amazon's current Kindle lineup for 2022, in order from smallest to largest:
Kindle – 6″ Screen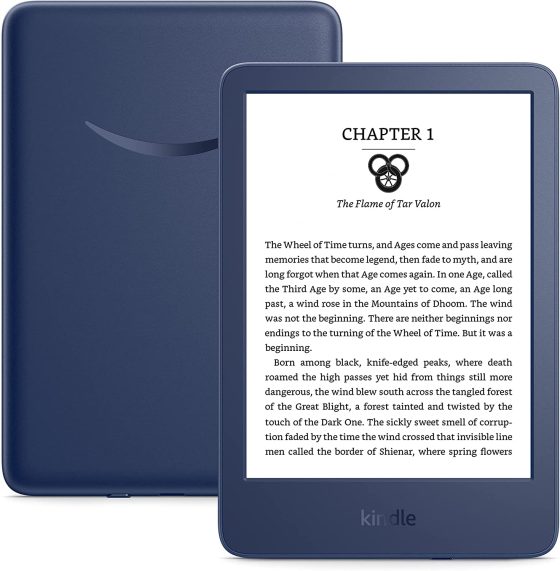 The new Kindle was just released last month and it normally sells for $99 with lockscreen ads and $119 without. Amazon finally upgraded it to a 300 ppi E Ink screen like other Kindles, and it has a frontlight but without warm temperature control like the other models. The screen is nice and clear and the device is very small and lightweight. It has 16GB of storage, a USB-C port, and it supports Dark Mode. It's available in blue (denim) or black.
See my full Kindle 2022 review for more details.
There's also the Kindle Kids bundle for $119 that includes this same Kindle with a cover, an upgraded 2-year warranty, and 1-year subscription to Amazon Kids+. Note: unlike previous kids models, this one includes ads by default when not using kids mode.
Kindle Paperwhite – 6.8″ Screen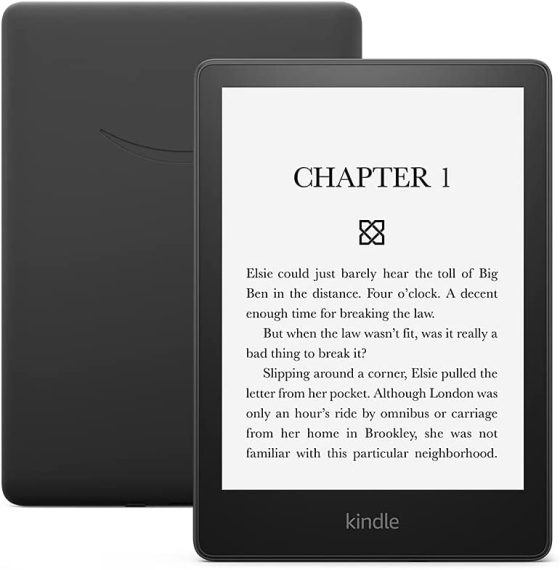 The 11th gen Kindle Paperwhite was released in October 2021, and it normally sells for $139 for the 8GB model, and they started selling a 16GB last month for an extra $10. This is the first Kindle to feature a 6.8″ E Ink screen, and it's the first Paperwhite model with a warm frontlight to blend the color temperature to your preference. It's also waterproof, it has excellent battery life, it's faster than previous generation models, and it has a USB-C port.
See my full Kindle Paperwhite 5 review for more details.
There's also a Signature Edition model that adds wireless charging, an auto brightness sensor, more storage (32GB), and it's ad-free. It sells for $189.
Additionally, there's the Kindle Paperwhite Kids bundle that sells for $159, and it's a better overall value for an ad-free Kindle because it includes the ad-free Kindle Paperwhite that sells for the exact same price, but the bundle also includes a free cover, an upgraded 2-year warranty, and 1-year subscription to Amazon Kids+.
Kindle Oasis – 7″ Screen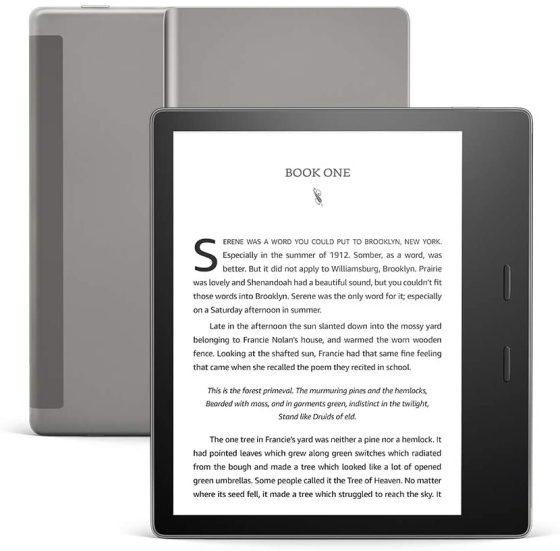 The Kindle Oasis 3 was released in 2019 but Amazon is still selling it as a current model. It's the only Kindle left with page-buttons and it has a slightly larger 7″ E Ink screen and a frontlight with color control. It has more of a premium design with a glass front layer and a metal back. It still has an older microUSB port and it doesn't support dual band WiFi like the newer models, but it's the only Kindle still available with the option of cellular connectivity. It normally sells for $249 for the 8GB model, but I'd expect it to be deeply-discounted for the holidays.
See my Kindle Oasis review for more details.
Kindle Scribe – 10.2″ Screen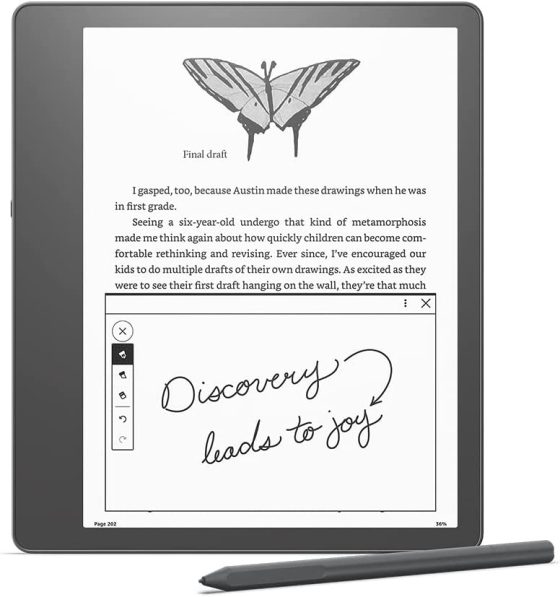 The Kindle Scribe is getting released on November 30th so it won't be included in the holiday sales, but the starting price is fairly reasonable at $339 compared to similar models. It can be used as an ereader and a note-taking device with the included stylus pen. It's the first 10″ ereader to have a 300 ppi E Ink screen (most have 227 ppi) and it also has a frontlight with adjustable color temperature. It has a USB-C port, a rotation sensor, Bluetooth, and it's available with 16GB, 32GB, or 64GB of storage.
Check back in December for a full review. In the meantime, here's a link to a detailed list of specs and features for the Kindle Scribe.
Related: Kindle Comparison Table