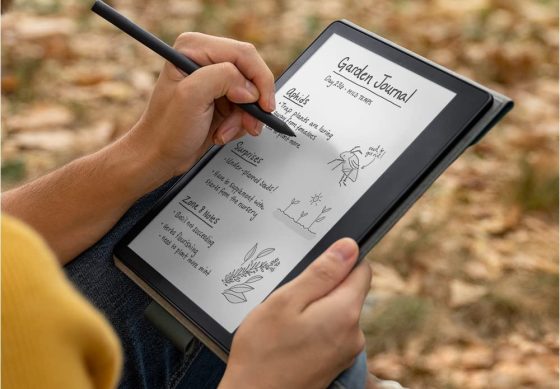 In response to a slew of negative reviews, Amazon has added a couple of new paragraphs to the product page of the Kindle Scribe in an attempt to pacify customers.
First off, they added this new section to the main list of bullet points at the top of the page:
Coming Soon: Kindle Scribe provides regular, free software updates that include new features. In the coming months, Kindle Scribe will add more writing tools, including new brush types and copy/paste tools, additional notebook organization options, and the ability to send documents to Kindle Scribe directly from within Microsoft Word.
They've been talking about the Microsoft Word thing since the beginning, but it's good to hear they plan to add more features to the notebook app soon.
Amazon support must've been receiving a bunch of complaints about PDFs as well because they've recently added the following paragraph to the product page under a "We want you to know" heading:
You can write directly on the page in PDF documents imported through Send to Kindle. Kindle Scribe does not currently support writing directly on the page in PDF documents loaded via USB-C or previously sent to your library before 11/11/2022.
So far the PDF implementation on the Kindle Scribe is just nonsensical. Sideloaded PDFs have more features, including contrast control, landscape mode, dictionary lookup, while sent PDFs have none of those features, but you can only write on sent PDFs. It's silly.
Basically what it comes down to is the Kindle software developers are letting Kindle users down once again. People hated the change to the new user interface, and now they've launched the Kindle Scribe with the most barebones notetaking features possible, and people aren't happy with it. No big surprise there.
Am I the only one that thinks it's a bit strange for Amazon to make such a big deal about adding support for sending Microsoft Word documents to the Kindle Scribe? I would think it would be more important to improve the PDF capabilities on this type of device than being able to import Word documents. It's not like you'll be able to edit Word documents on the Scribe. Will you even be able to view handwritten notes added with the Scribe in Word? I doubt it. So what's the big deal? The Send-to-Kindle apps have supported sending Word documents to Kindles for ages.