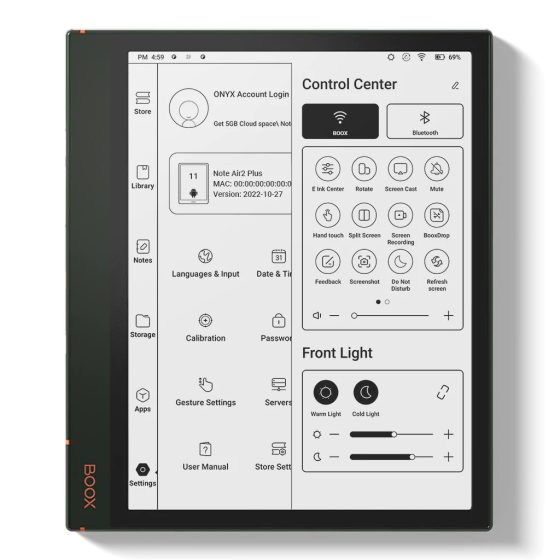 Onyx has released a software update for Boox devices, including many of their older models, that adds a number of new features and a redesigned user interface.
The V3.3 firmware adds the ability to sync book data, there's a handy new feature that lets you send PDFs and notes to a printer, and the ebook app now supports opening external hyperlinks.
They also improved text recognition with the Notes app, they added a new link tool to add links and attachments to notes pages, now you can add bookmarks to recorded audio clips, and they added a tag system to the Notes app.
The V3.3 firmware also features a redesigned user interface with a new control center and there's also new ways to navigate using an optional control bar at the bottom of the screen.
The ebook syncing feature is pretty standard on most ereaders, and it's good to see Onyx finally add that as well. You can sync reading data across all Boox devices, including reading progress, bookmarks, highlights, underlines, annotations, and handwritten notes. You can also view annotated content using the Boox Assistant app or the send2boox website.
To update the software on your Boox device, just go to Settings > Firmware Update to check for updates.
You also use to be able to download updates from the support section of Onyx's website, but now there's a note at the top of the page basically saying they won't be updating those pages anymore so apparently that's not going to be an option moving forward.
Either way, it's nice to see Onyx continuing to add more new features to Boox devices through software updates, especially the older models that they no longer sell. There are so many features on Boox devices it can be hard to keep track of how everything works.
Video: What's New in BOOX V3.3 Firmware