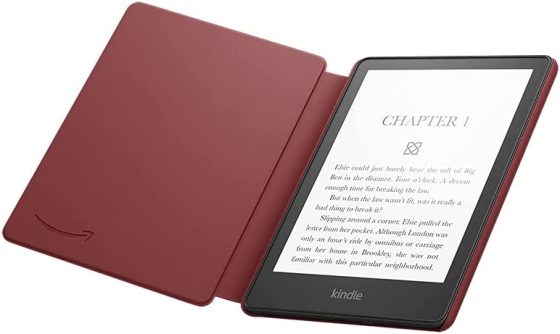 On Sunday I posted about how Amazon has put the new Kindle for 2022 and the Kindle Paperwhite on sale this week leading up to Valentine's Day.
I didn't notice it at the time, but at some point Amazon also put their official Kindle covers on sale as well, and pretty much all of them are on sale for every model, except the 2022 Kindle (but, oddly enough, they have fabric covers for the 2019 Kindle on sale for $15.99).
The Kindle Scribe isn't "on sale", but Amazon has added another new deal where you can get a $25 ebook credit when buying a Kindle Scribe by using code LOVESCRIBE during checkout. You can also get $40 off when buying two.
Covers for the Kindle Oasis are on sale too, even though the Kindle Oasis isn't on sale (that makes a lot of sense). But the deals aren't as good as the deals for the other Kindle covers.
I posted a comparison review between all the different Kindle Paperwhite covers a while back (Amazon's official covers, not third-party covers), so if you want to see the differences between each one make sure to check that out. Personally, I like the cork cover the best.
Keep in mind Amazon has used covers for quite a bit less than the price of new ones. For example, they have leather covers for the Kindle Paperwhite in "very good" condition for under $20. The covers I bought for the comparison review were all labeled as used but all ended up being in like new condition.
Kindle Covers On Sale
Kindle Paperwhite Covers
Fabric Cover – $25.99 ($9 off)
Leather Cover – $31.99 ($12 off)
Cork Cover – $36.99 ($13 off)
Kindle Scribe Covers
Fabric Cover – $49.99 ($10 off)
Leather Cover – $64.99 ($15 off)
Brush Print Leather Cover – $79.99 ($10 off)
Kindle Oasis Covers
Fabric Cover – $33.99 ($6 off)
Leather Cover – $42.99 ($7 off)
Premium Leather Cover – $56.99 ($8 off)
2019 Kindle Covers
Fabric Cover – $15.99 ($14 off)