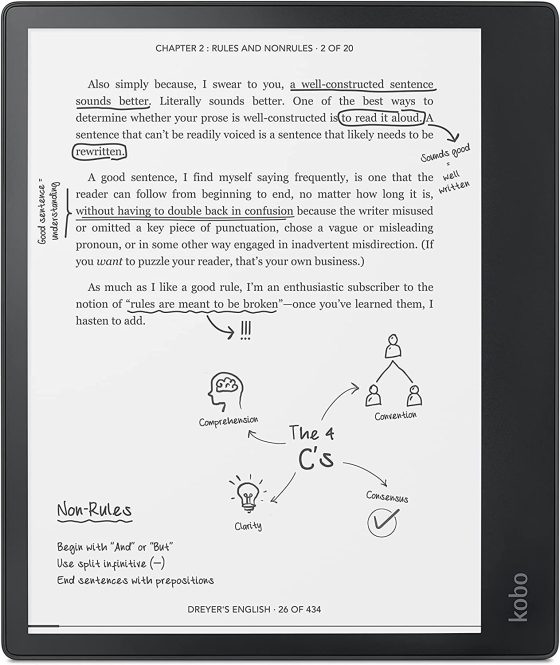 It's time for another ill-advised internet rant. I like Kobo's ereaders and their ebook store is a good alternative to Amazon, but as a blogger, Kobo gives me practically nothing to work with.
They do like two things a year that are worth talking about.
Last year all they did was release the Kobo Clara 2E, which is almost exactly the same as the Kobo Clara HD that came before it, and it was on the market for over 4 years before it was replaced by the nearly-identical Clara 2E.
It's been over 3 months since Kobo last released a firmware update, and the last update was pretty minor, like usual.
I can't even remember the last time Kobo did something that was worth talking about. They released the Kobo Elipsa in 2021, and that was pretty interesting, but they've barely made any improvements to the notetaking experience at all since then, and now Amazon sells the Kindle Scribe that's superior to it in many ways, especially from a hardware standpoint.
What does Kobo do? Nothing. They haven't even put the Kobo Elipsa on sale once since the Kindle Scribe was released. Have they added any new features to it? Nope. Most of the time it seems like they don't have any interest in competing with Kindles at all. It's been well over a decade since Kobo started selling their ereaders in the Unites States, and they still aren't even available in stores from a single retailer—you can only order them online.
Nothing ever changes at Kobo. There's nothing new to talk about. There's no list of rotating controversies like with Amazon and Kindles, which is probably a good thing, but it's also boring. And most people have never heard of Kobo. They have no idea what Kobo does or that they sell ereaders similar to Kindles.
Why doesn't Kobo ever do any reading challenges? Why don't they ever do any unique sales or promotions? All they ever do is take like $20 off the price of their ereaders once every couple of months. Ooh, $20 off again. It's barely worth mentioning.
Come on Kobo. Do something interesting for a change. Make an effort to take Kindles down a peg or two. Give me something to work with here!