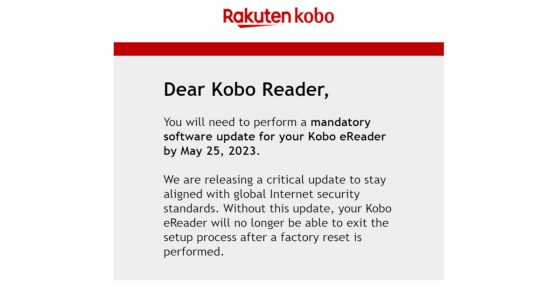 Kobo has started sending out emails to customers notifying them about a "mandatory software update" for older Kobo ereaders (the full list is at the bottom of this article), including the Kobo Clara HD, which they were still selling as recently as last year.
According to Kobo, without the update, older Kobo ereaders will no longer be able to exit the setup process after a factory reset is performed, so unless you want to deal with that hassle at some point in the future, you're probably going to want to make sure your devices are updated.
Kobo isn't disclosing any specifics about the update; they just say it's a critical update for "global Internet security standards". Unfortunately they don't even specify what software version these devices need to have installed to be considered up-to-date, so apparently they just need to have the latest version installed.
Kobo hasn't released a software update since the beginning of December so it's been quite a bit longer than usual, but they're likely to release a new update soon with the new Kobo Elipsa 2E getting released tomorrow.
Kobo just says to sync your ereader over WiFi before May 25th, 2023 to get the update automatically.
If you don't update your kobo device before May 25th using WiFi, you'll have to use Kobo's desktop software and a computer to install the update manually. Here's the link to the how to guide at Kobo for directions on how to sync using the desktop app.
Here's the full list of Kobo ereaders that need to be updated before May 25th, 2023:
Kobo Aura
Kobo Aura (Edition 2)
Kobo Aura H2O
Kobo Aura H2O (Edition 2)
Kobo Aura HD
Kobo Aura ONE 8GB
Kobo Aura ONE 32GB
Kobo Clara HD
Kobo Forma 8GB
Kobo Forma 32GB
Kobo Glo
Kobo Glo HD
Kobo Touch
Kobo Touch 2.0
Update: Kobo has updated this help page on their website saying the older models listed above need to have software version 4.35 or higher. 4.35 was the most recent update released this past December.
via: MobileRead, Reddit