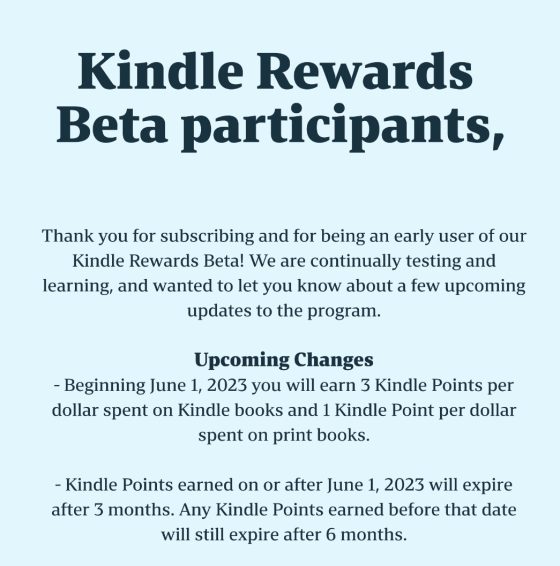 Amazon launched the Kindle Rewards Beta program in the US last October that allows customers to earn points when purchasing Kindle ebooks and print books, and then once you earn 300 points they can be converted to a $3 credit.
Amazon started sending out emails a couple days ago notifying customers about changes to the Kindle Rewards program that will go into effect starting today, June 1st.
First off, they're lowering the amount of points you can earn from 5 points for Kindle ebooks and 2 points for print books for every dollar spent, to 3 points for Kindle books and 1 point for print books per dollar spent.
They're also reducing the time you have to cash in points for credit from 6 months to 3 months. You'll still get 6 months for points earned before June 1st, but all points earned after that time will only last for three months.
So now you basically have to spend $100 every 3 months on Kindle books in order to get a measly $3 credit, unless you buy your books on double point days, which are few and far between.
This is one of several instances where Amazon has made changes for the worse for Kindle users this year. Last month they raised the price of Kindle Unlimited from $9.99 to $11.99 per month. Earlier in the year Amazon announced plans to discontinue magazine and newspaper subscriptions on the Kindle platform, and in early January they made changes to the Kindle for PC/Mac apps to make it so people can't download newer ebooks in the older Kindle format, making DRM removal nearly impossible for non-Kindle owners, and they also removed the ability to download Kindle Unlimited books for USB transfer.
Amazon has made a lot of changes to the Kindle platform this year, and none of them are good for customers. I thought the Kindle Rewards program was a good idea when it first started, but now it's hardly worth paying attention to anymore.