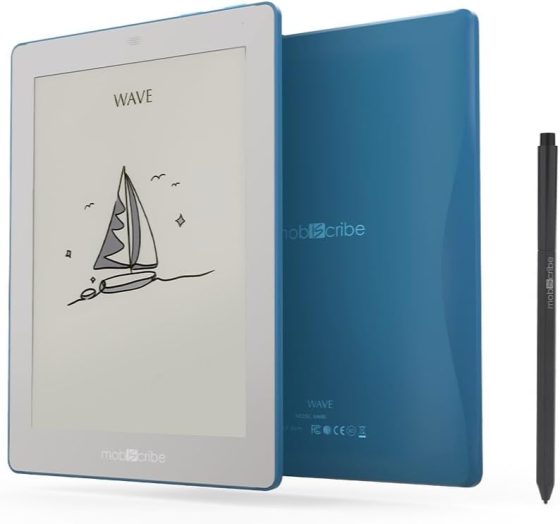 MobiScribe has been around for several years now, and they just launched the MobiScribe Wave earlier this year with a 7.8-inch black and white E Ink screen, and now a color version of the MobiScribe Wave is available as well.
The MobiScribe Wave Color is listed on Amazon for $320 with free shipping, and there's currently a $30 off coupon to take the price down to $290. The black and white version is $285, and there's a $30 off coupon for it too.
MobiScribe devices are mainly eNotes, but they can also be used for other things like ereading since they run Android and can install apps, and the Wave models run Android 12. They aren't really optimized for reading though, so there are certainly better options for that.
The MobiScribe Wave Color has a 7.8-inch E Ink Kaleido Plus screen with 300 ppi for black and white content and 100 ppi for color. It's not using the latest version of color E Ink like the Onyx Tab Mini so the color resolution is lower (but it costs a lot less). That seems like an odd choice, but PocketBook is doing the same thing with the new PocketBook InkPad Color 2.
The MobiScribe Wave Color has 64GB of storage space and it has a quad-core processor with 4GB of RAM. There's Wifi and Bluetooth for connectivity, and it has a built-in speaker for listening to audio. It also has a frontlight with adjustable color temperature. The battery size is 2500mAh.
The device comes with a stylus, of course, and the touchscreen supports 4096 levels of pressure sensitivity. It uses a Wacom touchscreen like most eNotes.
The MobiScribe Wave is also waterproof, with an IPX7 rating, meaning it can withstand being submerged in up to 1 meter of water for 30 minutes. The overall dimensions are listed at 5.84″ x 7.6″ x 0.32″. The weight isn't given.