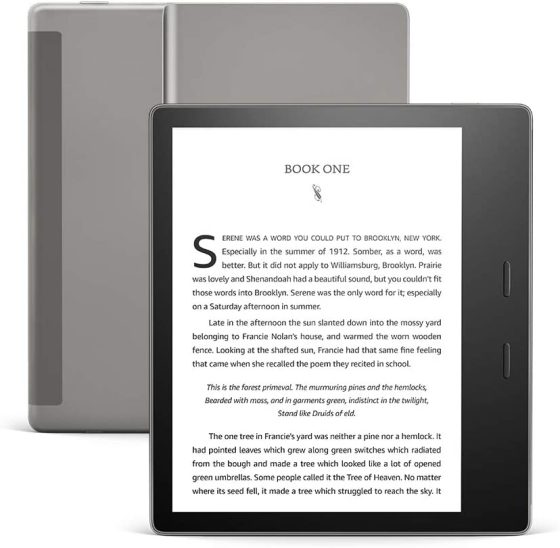 I came across a post on reddit asking Which e-reader has the best page turning buttons? As a big fan of having dedicated page-turn buttons on ereaders, I thought that was a good question.
However, after thinking about it for awhile I concluded that I can't come up with a definitive answer to say one has the "best" buttons, but I think the Kindle Oasis ranks pretty high on the list. It has comfortably-placed buttons with a nice responsive feel, but you can hear them clicking so they're a bit more audible than some other buttons.
The Kobo Sage and Kobo Libra 2 have nice functional page buttons as well, but for me they're a bit closer to the edge than I'd like, especially with the way the side curves up right next to the buttons. The Kobo Sage has very quiet buttons, though; the Libra's are a bit noisier like the buttons on the Oasis.
I'm still not entirely sold on the asymmetrical design of the devices mentioned above. In some ways I prefer the more traditional narrower designs with the buttons below the screen like on Sony's old ereaders, but I think most people probably prefer having page buttons along the sides.
Kindle used to have page-turn buttons located along both sides of the screen on the older none-touchscreen models. The Kindle Voyage also had buttons on both sides of the screen, but it was the only model to use sensors instead of buttons, with the option to enable haptic feedback to feel a response when pressing the sensors. It was unique in that respect.
Nowadays there are very few models that have page buttons located on both sides of the screen. The current lineup of Nooks still have them, including the new Nook GlowLight 4 Plus that's getting released in September. The older Nooks had really stiff page buttons back in the Nook Touch days, but the newer ones have nicer buttons that are easier to use.
Most of Pocketbook's ereaders have page-turn buttons located below the screen, but for me they're a bit on the low side, which results in the device having more of a top-heavy feel when using them. I guess I got kind of used to the buttons being a little higher up on the Sony PRS-350 and prefer them like that.
So what are your thoughts on the subject? Which ereader do you think has the best page buttons?