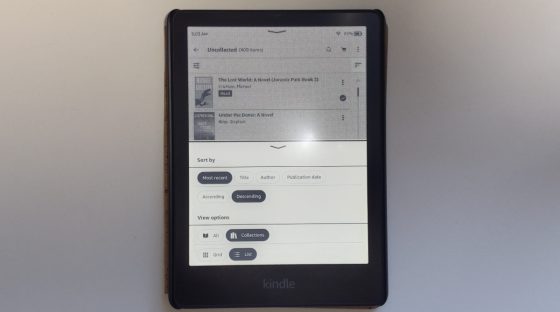 Amazon released a new software update for Kindle ereaders earlier this month, but they didn't include any release notes with the update so most people just assumed it was a minor update to fix some bugs or provide a security patch.
But it turns out they did add at least one new signifigant feature in the update that's worth mentioning: collections view now supports list mode.
Thankfully someone left a comment pointing that out. I'm not organized enough to use collections so it's something I probably would've never noticed.
Previously, before the update, collections only supported cover view, or grid view as Amazon calls it. The library could be layed out in either cover view or list view, but for some reason collections only supported cover view. Until now.
I don't know why Amazon's Kindle software developers can't just mention these kind of changes in the release notes. That's what release notes are for. Most other companies don't keep their customers in the dark about software changes. They didn't even bother with the usual "performance improvements, bug fixes, and other general enhancements" note with this update; they just left the chanelog blank this time.
This is the first noteworthy new feature that Amazon has added to Kindles other than the Kindle Scribe since last September when they added support for cover images for EPUBs sent to Kindles. They didn't bother mentioning that in the release notes either.
I know some people really disliked being forced to use cover view with collections so this should make some folks happy. I don't think Amazon is ever going to bring back the old list view without cover images, but at least they're slowly making some improvements to the collections system on Kindles.
However, one thing that's weird is the Kindle Scribe still doesn't have the option to show collections in list view, even with the latest update that was released at the same time as the update for other Kindles. Hopefully it'll get that option soon as well.
If you happen to stumble across any other new features since the last update let us know in the comments.
Video: Kindle Collections List View