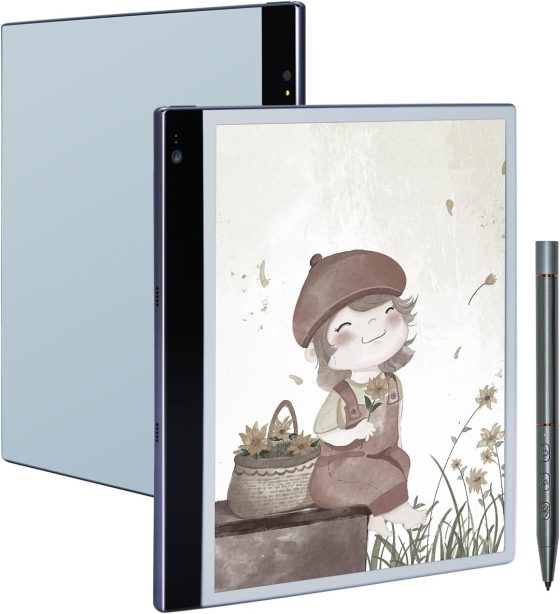 Over the past few years I've only posted about Bigme ereaders and eNotes a couple of times on this website so I figured it was time for a discussion on the brand since they're always advertising their products on Amazon.
I thought they would've disappeared into oblivion by now like most Chinese companies that think they can just slap Android on a half-baked E Ink device and make some easy money by selling their shiny gadgets to stupid people with excess money to throw away.
I'm still not sure if Bigme is a reputable company or not (in general, I don't trust companies like Bigme that use crowdfunding campaigns to fund the creation of their products—that tells you a lot about the state of their company right off the bat), but they have been selling their eNotes and ereaders on Amazon for quite awhile now.
Bigme sells devices with 7.8-inch and 10.3-inch screens, both with color E Ink and regular black and white E Ink screens. Bigme's devices are a lot like Onyx's Boox devices in that they run Android and have similar features and specs.
Full disclosure: I have not reviewed any Bigme products so I cannot speak about the quality of the hardware or the software. A rep contacted me once about sending a review unit but I declined the offer because I don't accept review units anymore. If it's something I'm not willing to buy with my own money then I'm not going to review it.
The number one thing that keeps me from buying a Bigme device is their astronomical prices. For a long time Onyx had the highest prices in the industry. Then Bigme came along and took high prices to a whole new level.
Take the Bigme inkNote Color for example, a 10.3-inch eNote with a color E Ink screen. It's $699 on Amazon, for an unproven product from an unproven company. It's basically Bigme's version of the Onyx Tab Ultra C, which sells for $599 and is already way more expensive than other 10-inch eNotes with regular black and white E Ink screens.
It appears to have better specs in some regards than Onyx's Tab Ultra C, but I don't see how the software could possibly be better than the software Onyx has been actively improving for many years now.
Again, I haven't used Bigme devices so I can't say one way or the other but from most of the reviews I've seen it sounds like the software is mediocre at best. The thing is that's usually the case with Android-powered ereaders. Even Onyx's early Android devices were pretty awful. It takes a lot of time to develop software for E Ink devices. Onyx is a well-established company in the Android eNote market with a long track record of selling these types of devices. I don't know how an unknown company like Bigme can expect to compete with Onyx by charging way more for their products.
To be fair, not all of Bigme's devices have such ridiculous prices. The Bigme inkNoteS is a typical 10.3-inch eNote for $399. That's actually a pretty reasonable price so maybe I will buy a Bigme product to review at some point.
If you have any hands-on experience with Bigme ereaders and eNotes feel free to leave a comment to tell us if you think they're worth buying or not. It would be nice to have more viable options in the Android ereader and eNote space.