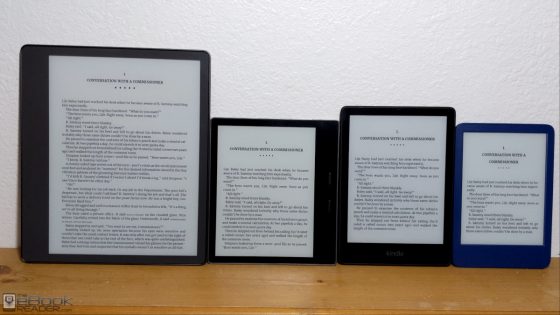 Last week I posted a video showing the current lineup of Kobo ereaders to get an idea of the size differences between them, and now this week I've got a video showing all the current Kindles next to each other.
One thing about shopping online is it can be difficult to get an idea of an ereader's size based on pictures alone, and not very many stores stock all Kindles to see them in person (I think Best Buy might be the only one, but it looks like most stores don't stock the Kindle Oasis anymore).
The video below shows all the current Kindles next to each other to help get a better idea of the size differences between them. There's the Kindle Scribe, the Kindle Oasis 3, which I don't think will be available for much longer, the Kindle Paperwhite 5, and the basic Kindle from 2022.
For a long time Amazon only sold Kindles with 6-inch screens, but now Kindles come in a variety of sizes.
Most of the older 6-inch Kindles are quite a bit larger than the current 6-inch model so if you're coming from an older model that's one thing to keep in mind. I show the Paperwhite 3 in the video to help get an idea of the size difference between it and newer models. The Paperwhites 1-3 are all the same size.
When it comes to larger-form content like PDFs and comics, there's not a big difference between the base Kindle and the Kindle Paperwhite and Kindle Oasis. None of those are really large enough to comfortably display that type of content, but they can still be used to read PDFs and comics. The Kindle Scribe is better suited for that with the larger screen, and it also doubles as a notebook as well.
Kindle Size Comparison Specs
Below is the list of screen sizes, overall measurements, and weight for each model. Screen sizes are measured diagonally. Click the names for full written reviews and in-depth video reviews.
Kindle Scribe – 10.2″ screen – 196 x 230 x 5.8 mm – 433 grams
Kindle Oasis 3 – 7″ screen – 159 x 141 x 3.4-8.4 mm – 188 grams
Kindle Paperwhite 5 – 6.8″ screen – 174 x 125 x 8.1 mm – 205 grams
Kindle – 6″ screen – 157.8 x 108.6 x 8.0 mm – 158 grams
Kindle Size Comparions Video