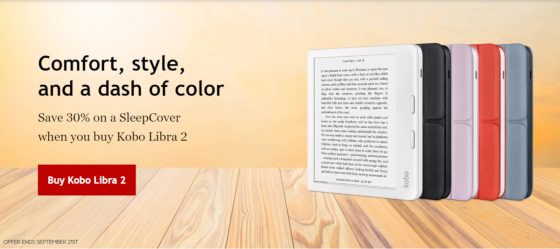 I saw a deal on Kobo's website and it made me laugh. They have an ongoing promotion that ends on September 21st where you can get 30% off a SleepCover when buying a Kobo Libra 2.
Wow, they're really going all out on that deal. If you spend $190 on a Kobo Libra 2 and another $40 on an overpriced cover (the deal doesn't apply to the cheaper $30 SleepCover), Kobo will take a whopping $12 off.
You can't afford to miss out on this deal! I guess they're hoping potential buyers aren't very good at math.
Kobo has a history of rolling out lackluster sales, but this might be the lowest percentage off ever. It's only like 5.2% off.
With a typical Kobo sale they'll discount their devices by $20, maybe $30 max for a current model and $50 max for a previous generation model. Even for Black Friday and Cyber Monday that's usually about as good as a Kobo sale gets.
This deal doesn't even come close to that, and you have to buy a $40 cover to boot. It's hard to see how anyone is going to be tempted by a mere $12 savings on a $230 purchase.
There's also the fact that Kobo raised the prices of their ereaders by $10 each earlier this year, so basically the sale price amounts to $2 less than what it sold for last year.
Meanwhile, Amazon regularly discounts Kindles by $50 or more, sometimes as much as $100 or more for events like Prime Day and Black Friday and Cyber Monday. There are some refurbished current-generation Kindles on sale at Woot right now for $60-$100 off the price of new Kindles. The juxtaposition of Kobo offering $12 off on a SleepCover bundle is one of the funniest things I've seen in awhile.