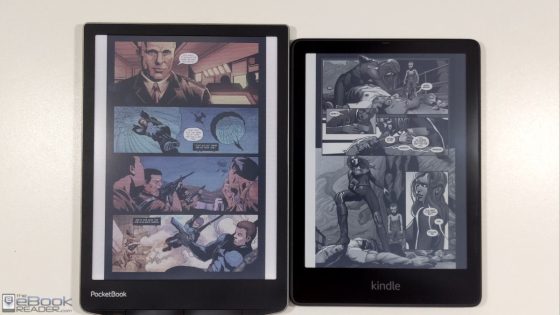 I posted a review of the PocketBook InkPad Color 2 yesterday, and whenever a new device with a color E Ink screen comes out, it makes me wonder if Amazon is ever going to release a color Kindle.
Whenever I get a new color E Ink device, one thing that stands out is the fact that color E Ink screens keep getting a little better each year. It takes forever for E Ink to improve their regular black and white screens, but color E Ink screens keep steadily improving.
I was pretty critical of color E Ink screens when they first came out because they come with some notable drawbacks compared to regular black and white screens, like the fact the added color filter layer makes the screen look darker, and it adds a slightly visible grid over the screen that results in a bit of a screen door effect.
But the grid layer is less visable on the newer Kaleido 3 screens, and they managed to bump the color resolution up to 150 ppi from 100 ppi. The black and white resolution remains 300 ppi.
The newer Kaleido 3 screens are only available on a few devices like the Onyx Tab Ultra C and Tab Mini C. The InkPad Color 2 has a Kaleido Plus screen with 100 ppi, but the color quality and text contrast is better than the earlier Kaleido screen that was on the 1st gen InkPad Color.
It's hard to judge the popularity of something like the InkPad Color since PocketBook isn't a well-known brand in countries like the US, but it was worth their time to release a second generation model so there must be something to it.
It makes you wonder how popular color E Ink would be if Amazon released a color Kindle like the InkPad Color 2. What if they offered a slightly larger 7.8″ color version of the Kindle Paperwhite? It's hard to imagine something like that not being somewhat popular on some level.
The problem with Amazon is they're never quick to make changes, especially when it comes to Kindles. They just got onboard with eNotes when they released the Kindle Scribe last year, while other companies have been selling similar devices since 2017.
PocketBook InkPad Color 2 vs Kindle Paperwhite 5 Video Comparison