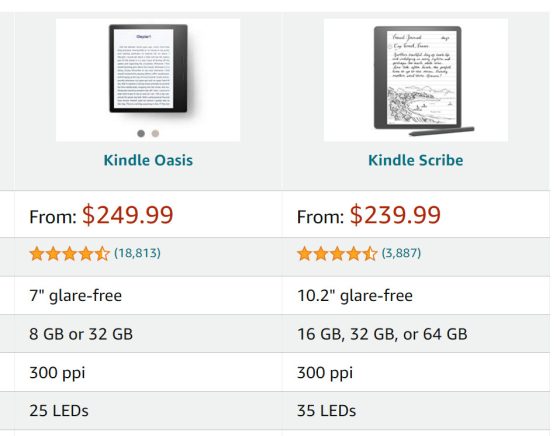 Last week Amazon put the Kindle Scribe on sale for the lowest price ever since it was released at the end of November of last year, and yet Amazon is still selling the Kindle Oasis that was released over 4 years ago for full price.
They'll surely put the Oasis on sale at some point this week for Black Friday too, but there's something seriously messed up with the current Kindle lineup when the Kindle Scribe is selling for less than the Kindle Oasis.
The 8GB Kindle Oasis with a 7-inch E Ink screen and lockscreen ads is priced at $249; the Kindle Scribe with a 10.2-inch E Ink screen and 16GB of storage is $239. Additionally, the Scribe does not have lockscreen ads that cost an extra $20 to remove on the Oasis.
The Kindle Scribe also comes with a stylus and the device has vastly superior battery life to the Oasis. Both devices have a rotation sensor, an adjustable warm light, and an auto-adjusting frontlight. The one advantage the Oasis has is the fact that it's waterproof, and it also has page turn buttons.
So why is the price of the Oasis still so high? The Signature Edition Paperwhite that sells for $189 has 32GB of storage, no ads, and wireless charging. How is the 32GB Oasis worth $110 more than that?
None of it makes any sense. What is it about the Kindle Scribe that makes Amazon want to sell it for less than the Kindle Oasis? It's not like they're going to make a fortune off of selling replacement stylus tips.
At some point you'd think they'd drop the price of the Kindle Oasis permanently considering the age of the device and the fact that it's the only remaining Kindle with an older microUSB port. The base model also has half the storage space of the entry-level Kindle that sells for $99.
Don't get me wrong, the Kindle Oasis is still a nice device if you don't mind the older USB port and older screen tech, but the price makes no sense on any level. It's a relic from a different time that doesn't fit in with the current lineup at all.
Check my Kindle Scribe vs Kindle Oasis Comparison Review for a more detailed look at how the two devices compare.