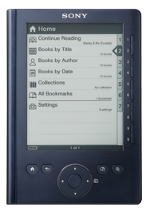 The prices of ereaders are dropping all the time. Sony Style
now has the refurbished PRS-300 marked down to $99 and the refurbished PRS-600 marked down to $119.
Refurbished products are often items that have been returned or ones that have had minor fixes, so they're generally a good deal and this time, for an ereader under $100, it's definitely a good deal.
The Sony Pocket is available in all three colors: silver, navy blue, and rose. And the Sony Touch is available in both silver and black, the red must have already sold out because it used to be listed.
The price cuts on these devices most certainly strengthen the rumors that Sony is about to unveil the new Sony PRS-350 and PRS-650, the two updated versions of these ereaders. The new version of the PRS-300 is expected to have a touchscreen, so if that's something you don't like, now is probably the best time to get a PRS-300 before it is replaced by the PRS-350.