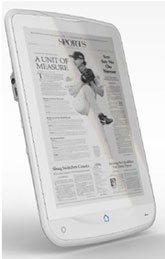 I came across a very interesting E Ink ereader last week that runs Android 2.1. It's called the Eliot EB-800C and is made by EliteGroup (ECS), an electronics company based in Taiwan.
The Eliot EB-800C was shown off at CeBIT 2011. I was hoping more information and perhaps a video would surface on this particular ereader but it appears to have received very little attention. I was, however, able to get a hold of the spec sheet for a look at some of the finer details.
Given the Android 2.1 operating system, a device like this has a lot of potential if it ever hits the market, provided it allows for installing apps.
I say if it hits the market because last June I reported on a couple of other ereaders from ECS, including one with the same name as this one minus the C at the end, that have yet to see the light of day, at least not outside of Asia.
But if the Eliot EB-800C does manage to make it to the United States and is open to installing apps, sign me up—I want one. Obviously most Android apps aren't going to work on an E Ink device, but imagine being able to have all the major ebook reading apps on one single ereader—Kindle, Nook, Kobo, Aldiko, etc.
This is possible with many of the Android-powered tablets on the market, but there are no dedicated ereaders with that functionality. I often wish I could use Aldiko on my E Ink ereaders because I like the advanced font and layout options that no other ereaders have for DRM'd ebooks. And it would be the only E Ink alternative for reading Kindle ebooks without a Kindle.
That's the beauty of Android on an E Ink ereader: it could support almost all ebook formats and platforms in a single device.
Eliot EB-800C Specs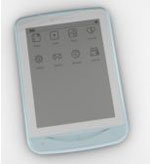 8" E Ink Pearl screen, 1024 x 768, 16 levels grey scale
Capacitive touchscreen
Wireless: Wifi 802.11 b/g/n, Bluetooth 3.0; 2G/3G (optional)
Memory: LP DDR1-200 256MB/512MB
Storage: NAND Flash – SLC 256MB/ 512MB; Extend storage: Micro SD card up to 16G
OS: Android 2.1; Linux 2.6.29 above
CPU: Marvell PXA 166E, 800MHz
Micro USB 2.0 port
Built-in speaker, 3.5mm headphone jack
Buttons: Power on/off; Reset; Home; Menu; Back; Volume up/down
Battery: 2090 mAh, 7,000 – 8,000 page-turns
Formats: EPUB, CHM, TXT, RTF, PDF, MS Office documents (optional), JPG, PNG, BMP, GIF, MP3, AAC, OGG, WAV
Dimensions: 223mm x 156.5mm x 10.8mm
Weight: 320 grams
Expected Release Date: Quarter 2, 2011
Via: eReaders.nl