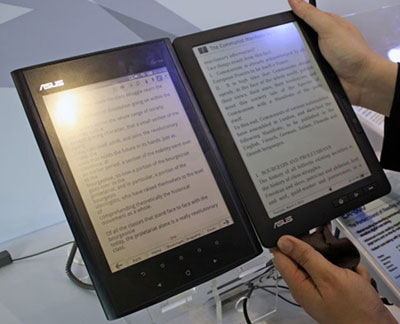 The last week of February, Asus announced that the EEE Note EA-800, a blend between an ereader and digital notepad, is coming to the US for less than $200.
Asus's other ereader, the DR-900, is selling in Europe and Taiwan, but has yet to make an appearance in the US.
On the surface, Asus's two ereaders look pretty similar, but are in fact very different devices. The DR-900 is geared more toward ereading while the EA-800 is designed more for the classroom.
The EEE Note EA-800 has an 8″ monochrome LCD screen that uses an ultra-sensitive Wacom digitizer for capturing handwritten notes and drawings. It also has a rear-mounted 2 megapixel camera and a voice recorder. It weighs about 80 grams more than the DR-900 despite the smaller screen.
The DR-900 has a 9″ SiPix display with a capacitive touchscreen. The battery life is rated at up to 4 days with wireless on, 2 weeks with it off. The screen tech gives it much better battery life than the EEE Note, which gets about 10-13 hours.
Both devices support PDF, ePub, MP3, JPEG, BMP, GIF, and PNG formats. The DR-900 also supports HTML, FB2, and ZIP/CBZ formats. The EA-800 adds support for txt, doc, docx, xls, xlsx, ppt, pptx by converting them to PDF/EPUB with a conversion tool.
One detail worth noting, the background color of the EEE Note appears darker than the DR-900 in the video. SiPix screens are known for being darker than E Ink screens so the fact that the EEE Note's screen appears even darker might be an issue for some. It will be interesting to see what it looks like in person.
EEE Note EA-800 Vs Asus DR-900 Video
Via: Notebookitalia