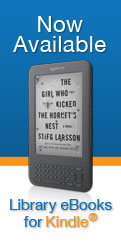 Amazon and OverDrive have quietly started rolling out Kindle ebook lending from public libraries, albeit in Beta.
Even though there hasn't been any official announcement yet, some public libraries have already started lending ebooks for the Kindle. The image to the left hails from the Seattle Public Library; several other libraries are starting to list Kindle ebooks as well (not mine, though).
Update: Kindle Library eBooks are now officially available at over 11,000 libraries. Click here for the Kindle library ebook tutorial for complete directions and a video of how library ebooks work.
Plus the Device Resource Center over at OverDrive now lists the Amazon Kindle 3, Kindle DX, Kindle 1, and Kindle 2 as supported devices. The library ebooks will also work with Kindle apps and the Kindle Cloud Reader according to the public library books help page at Amazon.
Here are the key details from the Kindle library books help page:
You can borrow Kindle books from your local library's website, and, with the click of a button, have them delivered to your Kindle device or free reading app.

Instructions:

Visit the website of a U.S. library that offers digital services from OverDrive.
Check out a Kindle book (library card required).
Click on "Get for Kindle." You will then be directed to Amazon.com to redeem your public library loan. You may be required to login to your Amazon.com account — or create a new account — if you're not already logged in.
Choose to read the book on your Kindle device, free reading app, or Kindle Cloud Reader.

Note: Public library books require an active Wi-Fi connection for wireless delivery to a Kindle device. Library books will not be delivered via your Kindle's 3G connection. If trying to send to a Kindle device and do not have an active Wi-Fi connection, you may instead choose to load your library book via USB. Both Mac and Windows users can manage Kindle content through a USB connection.
Make sure to check this earlier post for a tutorial on how to get free ebooks from libraries using OverDrive. The article includes more information about how library lending works and a list of libraries that offer cards for non-residents.
It's good to see that the Kindle is finally getting library ebooks. Everyone has been waiting anxiously ever since Amazon announced the Kindle would be getting access to library ebooks back in April. And it is not at all surprising that it just happens to come right before the launch of the new Sony Reader Wi-Fi in a couple of weeks that boasts on-board library ebook lending.